Travel and immigration
International students should submit a Travel Plans form to the Office of International Student and Scholar Services (OISSS). 
A representative of the college will welcome you at the Quad Cities International Airport in Moline, Ill., and bring you to campus.
In order to receive this service, students should plan to arrive between 9 a.m.-9 p.m. (Central Standard Time) at the airport.
Here is a map of the airport terminal to show you where to meet us.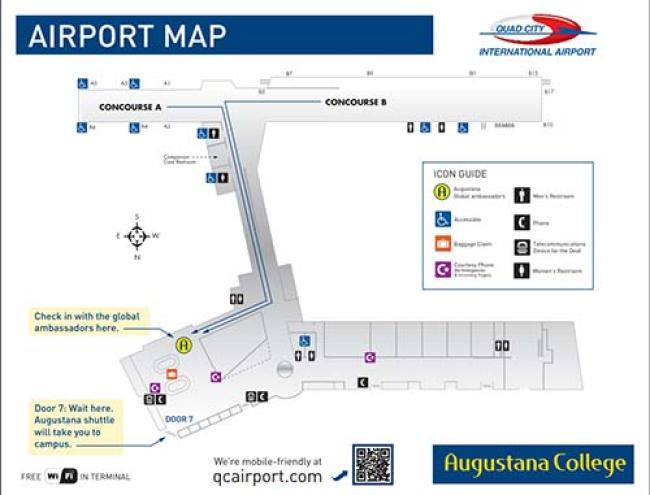 Airport information
The local airport code is MLI for the Quad Cities International Airport. It is located in Moline, about 20 minutes from campus.
Please note: International passengers cannot fly directly into this airport. The airport has "international" in its name because it accepts international packages — not passengers.
When students fly into the United States, the arrival city is the Port Of Entry. This is where passengers will go through Customs and Immigration.
Immigration
Students will need to fill out an immigration form and turn it in at the Port of Entry. The following documents will be required to present (and not in checked baggage):
Passport
Visa
I-20/DS-2019 federal forms
Entire contents of the envelope that was sent to you by Augustana College indicating your admission to the college
Arriving at the airport
Our airport is small, so Augustana employees will find you without a problem. Look for the Augustana banners.
Reminder: Students will need to send the Office of International Student Life a complete itinerary (not only arrival time in Moline): Travel Plans form
Train service
There is not a passenger train that serves this area.
Bus service
Book your Burlington Trailways ticket online. The destination that you need to select is "Augustana College, IL". The bus will deliver passengers to parking lot on campus, and our staff will be waiting.
Luggage
Please note: We do not accept packages or suitcases before you arrive on campus.
An additional note: Students will not be able to check into residence halls without the help of the Office of International Student Life.