Global Ambassador Program
The Office of International Student and Scholar services closely work with Global Ambassadors and student staff to support all international students and plan programming throughout the year.
OISSS Staff
2023-24 Global Ambassadors
Augustana's Global Ambassadors work closely with the Office of International Student Life to support incoming international students. Many of them are international students or have lived or studied abroad and often in multiple countries.  
The Global Ambassadors lead sessions during International Student Orientation, pick students up at the airport, mentor first-year international students, and plan programming throughout the year.
They help new students adjust to life on campus and in the Quad Cities.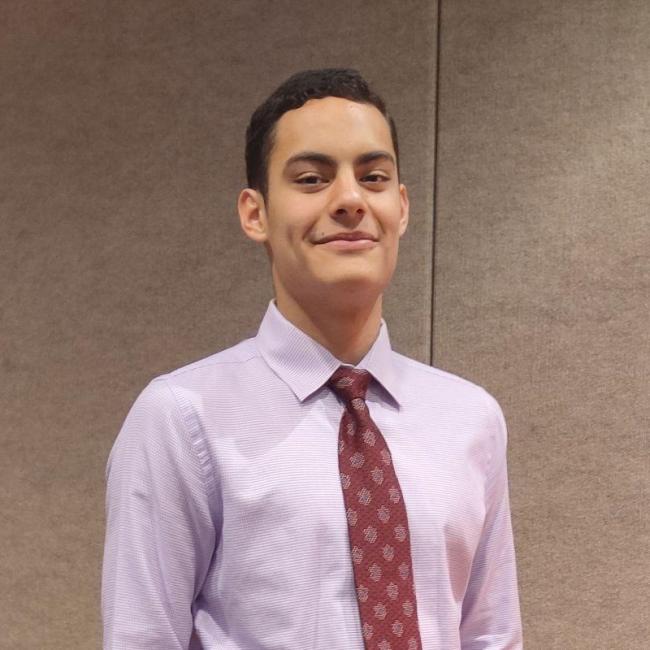 Cesar Augusto Castillo Matheus
Major: Engineering Physics
Country: Venezuela
Why I chose my field of study: Right now in Augustana I am planning to study Engineering Physics, specifically the 3+2 program, and then get a Master degree in Aerospace Engineering. I chose this career because since I was a little kid I have always liked math, solving complex problems and challenging myself with these, plus both of my parents are engineers so that probably motivated me to follow this path.
My favorite food: This may sound a little cursi but my favorite food is my mom's cooking. I can promise you that every person that has tried a dish from my mom they always get surprised by how good it is. Probably my favorite dishes are Empanadas, Lasagne and pork rind. My brother and I have always insisted my mom should open a restaurant but says it is too much work.
My hometown: My hometown is called Punto Fijo, it is in the state of Falcon, located at the northwest of the country, which is Venezuela. The thing I love the most about my hometown is that it is right next to the beautiful beaches of the Caribbean. I can literally just drive for 10 minutes and I can already admire the beauty of the ocean. Also the seafood is amazing because of this.
My proudest college accomplishment (so far): First of all, I am part of the swimming varsity team here in Augustana, with this been said the thing I am most proud of is that for the first time in 41 years, the Men's swimming team won the conference championship, I can proudly say that I score a considerable amount of points to help the team achieve this big accomplishment and I am really excited to defend this title my following years here in Augie.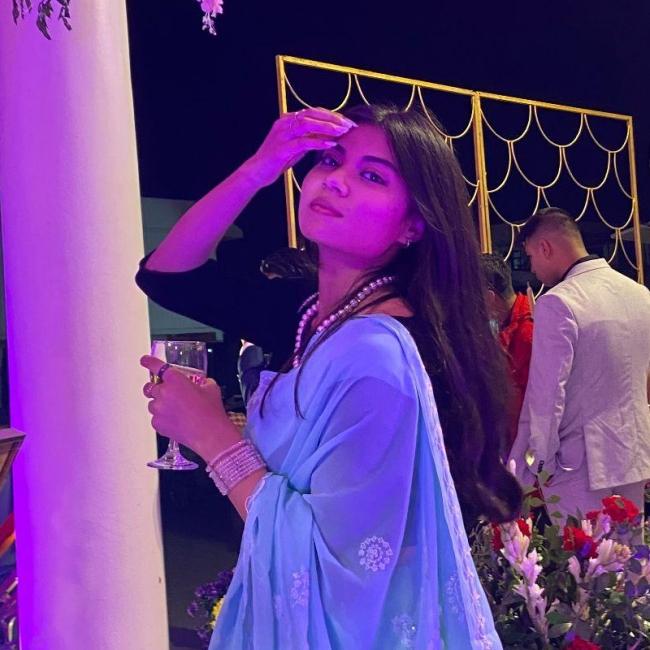 Priyanjana Chaudhary
Majors: Data Analytics and Business Intelligence
Country: Nepal
Why I chose my field of study: The growing demand for technology is what inspires me to major in Data Analytics and I feel like the combination of Data Analytics and business information would give be a perfect combination and would give me an opportunity to explore and contribute in this field.
My favorite food: My favorite food is momo, gimbap, and butter chicken and I also love sea foods.
My extracurricular activities: I was involved in Augustana Observer, and currently, I'm involved in the ITS Augustana services, and I'm an active member of Sigma Pi Delta.
My hometown: My hometown is Kathmandu, Nepal. I love its rich history, cultural heritage, and stunning natural beauty. Kathmandu is known for its delicious cuisine, which combines traditional Nepali dishes with influences from India and Tibet. Popular dishes include momos (steamed dumplings), dal bhat (lentil soup and rice), and chow mein (stir-fried noodles). There are also many cafes and bars that serve local and international drinks.
My advice for incoming students: College can be both challenging and rewarding, but the key is to stay focused, stay organized, and stay engaged. Seek help if you need anything, don't hesitate we are here if you need anything. Explore and grab all the opportunities you need. Just contact me through my social media anytime you need help. One message I would like to give to incoming freshmen is "DON'T PROCRASTINATE," it can be your worst enemy.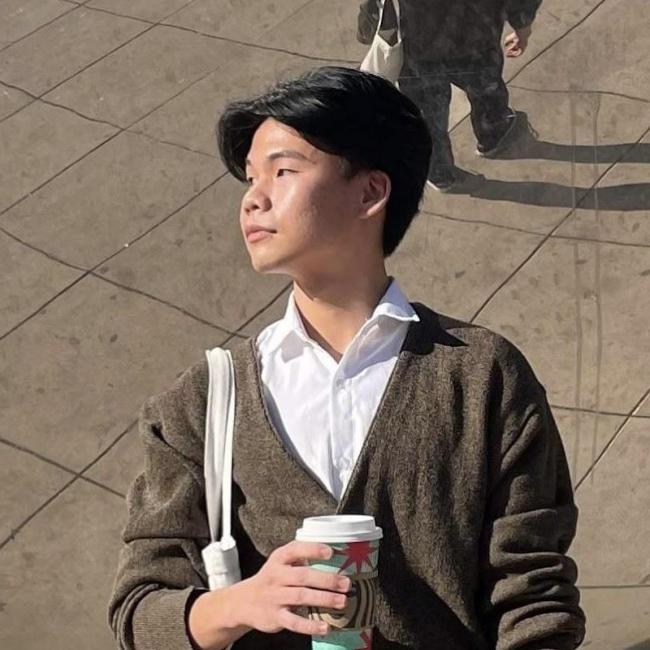 Tin Dang Vu Bao (Justin)
Major: Undecided
Country: Vietnam
Why I chose my field of study: I didn't declare my major yet, but communication studies and marketing are on top of my head at the moment.
My hometown: My hometown is a really small one in Vietnam, and it is called Tan Hai. The thing that I love about my hometown is the tranquility. Another thing that I love even more is it just takes about 5 minutes to drive to get to the beach. I love beaches.
My hobbies: I play badminton, but not too well, we can hang out sometimes. I love being outdoors, trying new things, gardening, and cooking. One of my hobbies is that I can spend my whole day looking at old photos and collecting insect specimens and funny-shaped rubbers (strange right?).
My favorite TV show: My favorite series is Modern Family. I enjoy watching this not only because it is so funny, but also because I love watching the characters in the series growing up like Lily, Manny, Luke, Alex, and Haley. Because the series was filmed from 2009 till 2020 so I love to see the real-time growth of those characters.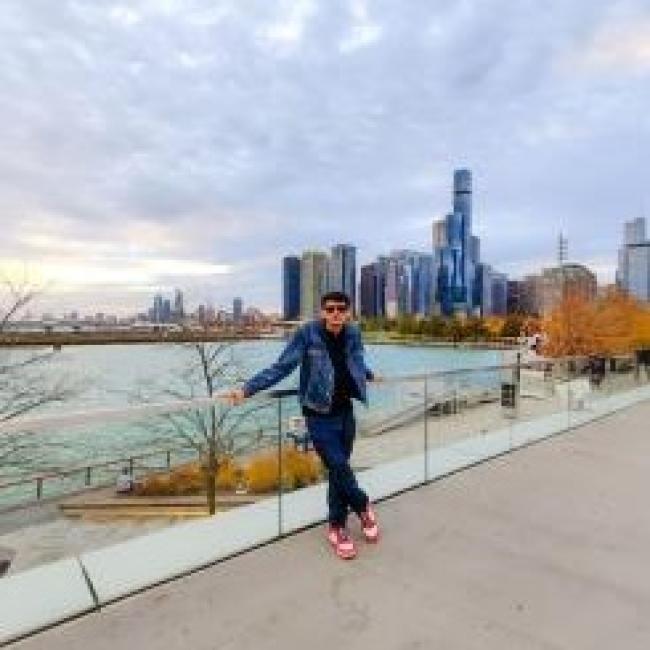 Rahim Ajmal Ikhlas
Majors: Computer Science and Data Science
Country: Pakistan
Why I chose my field of study: Computer Science and Data Science, it seemed interesting to me, and I always wanted to be developing apps or gaming also to further my knowledge in it.
My hometown: My hometown is a small town called Faisalabad. The best thing I like about my hometown is how society is close to each other and coming from one of the well-known and oldest families in Faisalabad, it showed how actually people respected and treated people with the utmost kindness.
My favorite movie: My favorite movie is the Dark Knight. I really like the character of Batman as I am big of fan its comics. Also, the acting by Heath Ledger for the joker was one of the best.
My advice for incoming students: The advice I would like to give that always be prepared for anything, think about which majors you want to pick that is according to your interest. Work hard and be successful in any way also enjoy in the process.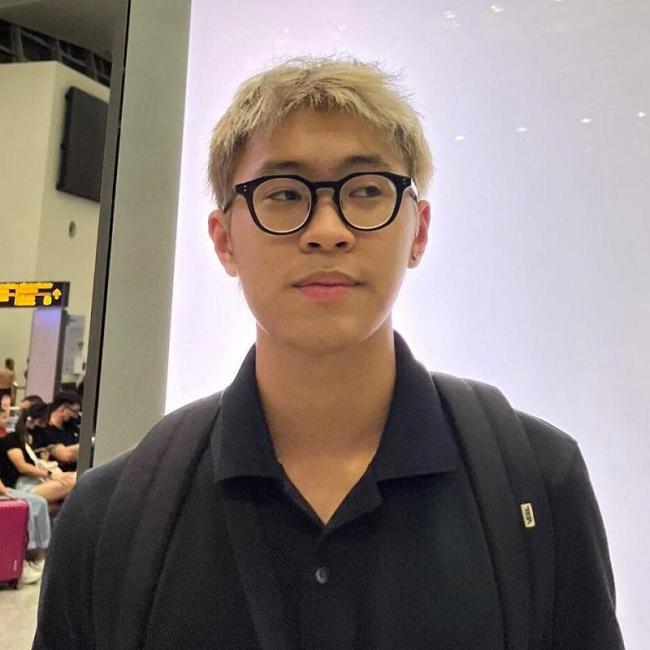 Minh Nguyen
Major: Computer Science
Minor: Graphic Design
Country: Vietnam
Why I chose my field of study: I'm currently pursuing a Computer Science Major, with a Graphic Design minor. I decided to major in Computer Science because I felt like this has been a rising area of study for the past few years and so far I have found it really interesting to learn about. I also took a minor for Graphic Design because I liked to be creative and being able to design would help me a lot with my Computer Science path.
My favorite food: My favorite food has to be the famous Pho, a Vietnamese traditional dish. A perfect Pho would have to include Vietnamese specific kinds of noodles for it, 12-hour long bone broth and thin slices of beef. I remember my mom used to cook Pho for the family every weekend, and the great thing is that I can have Pho for every meal of the day. It is such a great feeling to see Pho become so famous not only in America but also all over the world.
My hometown: My hometown is Hanoi, the capital of Vietnam. Born and raised in Hanoi, I love everything about this city. It can be an exciting and upbeat city for tourists, but when you are moody, or just simply want to find a quiet place, you can always find a spot in Hanoi for it.
My hobbies: I like football a lot (or soccer in America), both playing and watching it. I watch football almost everyday, even when the club that I support is not playing, I just solely watch it for the sake of the game. Besides that, I also like music, you can always see me on the headphones when I'm not talking to anyone.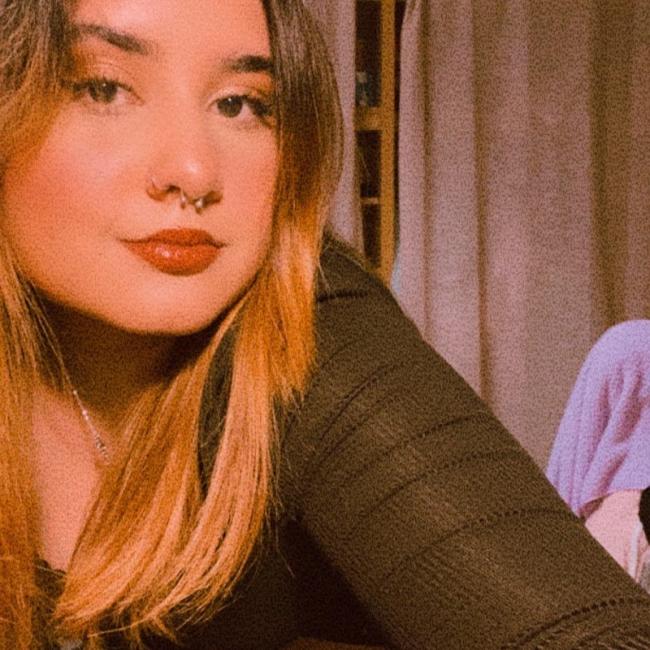 Sambriddhi Pandey
Majors: Data Analytics and Economics
Country: Nepal
Why I chose my field of study: I am double majoring in Data Analytics and Economics. I love doing Mathematics and analyzing data using different statistical methods. My goal is to be a Data Scientist/Investment Analyst and that is why I chose this major. In addition, I have always aspired to be a STEM girl :)
My extracurricular activities: On campus, I am the Lead Global Ambassador for OISSS. I am also an Admissions Ambassador for the Office of Admissions. In addition to being a member of the Global Engagement Team, Her Campus, and Nepali Student Association, I am also a part of the Chi Omega Gamma Sorority.
An interesting fact about me: One of the interesting facts about me is that I am a BIG TIME gym rat. I absolutely love weightlifting and it is such a huge part of my life. Being able to lift heavy weights brings out so much happiness in me.
My advice for incoming students: One piece of advice I would give is to just have fun and YOLO!!! Make the best out of the four years and make as many memories as you can. ;)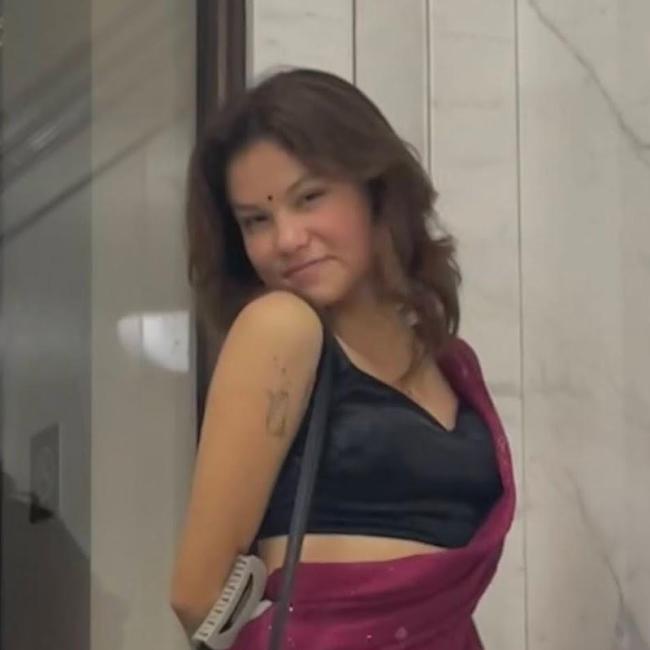 Norika Singh Thapa
Majors: Business Finance and Accounting
Country: Nepal
Why I chose my field of study: I am planning to major in Business Finance and Accounting. The reason I chose this major is because I have always been interested in Accounting. I believe that combining Accounting with Finance will be good for my career.
An interesting fact about me: Everyone who knows me personally already knows this about me. I am a big cat person. I have a black cat who is back home and whom I love a lot. He is my best friend and my emotional support.
My proudest college accomplishment (so far): This may not be considered as an "accomplishment" but I grew out of my comfort zone and joined Chi Omega Gamma, one of the sororities here at Augustana. It has only been a few months but I can already see so much personal growth.
My advice for incoming students: Find balance between work and play. Please don't spend time worrying only about academics. Yes, it is important but so is getting the college experience as a whole. Augustana is a small campus but there are so many things that you can be involved in. College can be stressful, especially being far from home, so I suggest you try and enjoy as much as you can. This may sound cliché but time really does go by.