Data Analytics at Augustana College
The Need: Big Data is Everywhere
Based on a peer research report, data analytics is an emerging field and finding capable personnel with a well-rounded education is challenging. Companies need employees with the skills that go beyond basic data interpretation and predictive analysis.
Almost every industry is being reshaped by data analytics. Finance, marketing, manufacturing, insurance, energy, government, retail, transportation and logistics, biotech and health care rely heavily on data-driven decisions and need employees who can responsibly evaluate and interpret big data.
These industries seek graduates who can communicate effectively in person and on paper, and who can successfully work in teams. Augustana's curriculum is built on a foundation of educational requirements that make this field of study a natural fit for our students. Students in all majors master the art and science of asking the right questions, finding patterns, collaborating, communicating well, connecting disparate ideas, and addressing ethical concerns and issues.
The demand for trained data analysts in the United States is increasing dramatically. A McKinsey Global Institute study determined the United States will face a shortage of about 190,000 data scientists by 2018. The Bureau of Labor Statistics[1] predicts a 30 percent growth in data analytics employment by 2024 and the demand for managers and analysts who can understand and make decisions using "big data" is estimated to reach 1.5 million by 2018.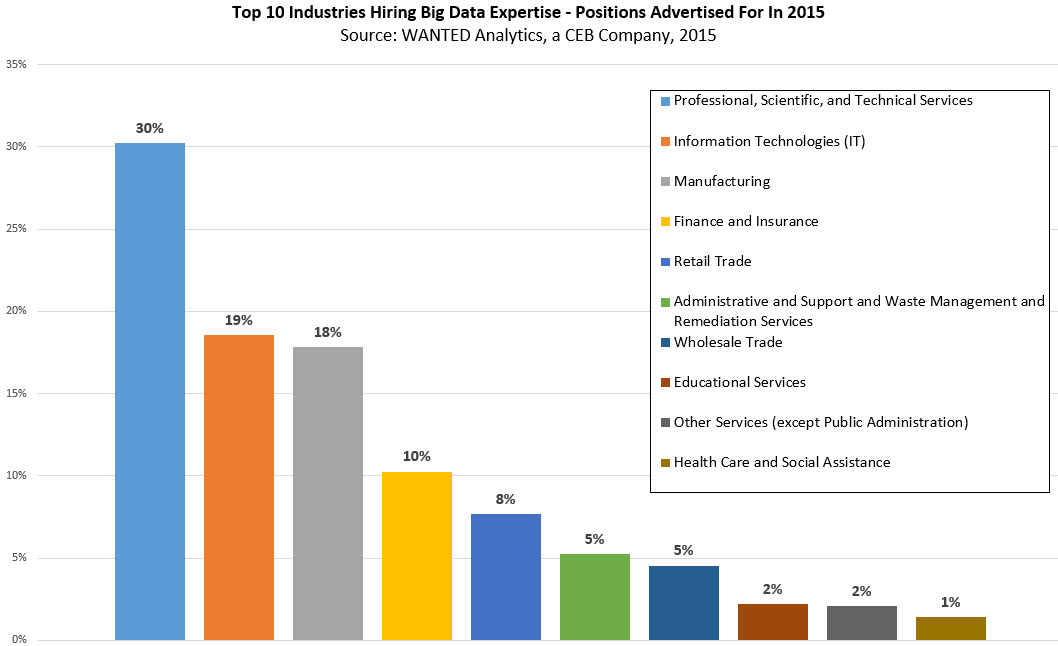 The demand to hire big data analytics graduates is increasing even in mid-market employers as they seek data scientists who can combine technical expertise with entrepreneurial thinking and communication skills. According to a 2014 Dell survey of 300 IT decision-makers in these organizations, "Eighty percent of survey respondents agree that they need to better analyze their rapidly expanding data collections. Among their top goals: improve product quality, seize business opportunities and speed decision-making. Forty-one percent of mid-market businesses have one or more big data projects already in place, with another 55% planning to start one in the near future." 
The McKinsey Big Data report of 2011 was an early reporter of the big data talent gap. Around that time, universities like North Carolina State, Northwestern, Indiana University and UC Berkley began offering graduate degrees in data science, data analytics or business analytics. A few years later, undergraduate bachelor degree programs at similar institutions came on line. However, only a small number of liberal arts institutions offer a data analytics program at the undergraduate level of study.
Data Analytics within a Liberal Arts Context
Augustana will be part of a small group of liberal arts colleges at the vanguard of offering an undergraduate degree in data analytics. We will join institutions like Calvin College (Michigan), Denison University (Ohio), Drake University (Iowa), Luther College (Iowa) and Smith College (Massachusetts). Our program, like theirs, is designed to use the talents fostered by integrative, critical and big picture thinking along with the quantitative skills developed in mathematics and statistical-based coursework. There are approximately 28 additional undergraduate bachelor degree programs in the United States with a stronger focus on math and computer science.
The president of Denison University, Dr. Adam Weinberg, said this about data analytics at liberal arts institutions[2]:
The world is awash in data, creating new opportunities in fields such as product development, marketing and public health, as well as scientific research areas like genomics, drug discovery, climate science, neuroscience, particle physics and
as­tronomy. Not surprisingly, colleges are developing programs to train students in data analytics for this emerging work. It is crucial that liberal arts colleges participate in the shaping of this field because data analytics needs experts who can ask the right questions, communicate well and address ethical concerns and issues.
Dr. Weinberg captures the advantage of incorporating data analytics programs into a liberal arts education. At Augustana, we offer a challenging liberal arts and sciences education that develops the whole person. The core course requirements have been carefully selected to create well-rounded graduates who are accustomed to framing questions, working in interdisciplinary teams, effectively solving problems, communicating results and questioning the ethics of a situation.
During their first three terms at Augustana, students enroll in courses designed to help them become active, critical learners. They are asked to consider what it means to be a liberally educated individual, how our exploration of the past deepens our understanding of the human condition, and how we can embrace the challenges of our diverse and changing world. Before graduation, students select a class that examines an aspect of Christian traditions and several classes that include perspectives on the past, the arts, individuals and society, literature and texts, the natural world, and human values and existence. Students participate in a learning community of two courses from different areas to examine connections and contrasts between disciplines to encourage thinking about human problems and issues from different perspectives. They also fulfill skills requirements such as foreign language competency, two physical education activity courses, and courses that focus on quantitative reasoning, multicultural awareness and global diversity issues. Because of this background, an Augustana data analyst will be trained in deep reasoning and diverse thinking, possessing a perspective of seeing across boundaries so they ask not only "Why?" but also "Why not?"
The Augustana Program in Data Analytics
The preliminary design of Augustana's proposed program will have five components: prerequisite courses in statistics, spreadsheets and databases; courses in computer science; three specific data analytics courses; electives in the student's chosen field; and an internship or major project within a student's field that incorporates data analytics. This will be the first program at Augustana to invite industry participation from development to implementation, including welcoming data analytics experts from area businesses to teach in the classroom. In addition to tapping local expertise for classroom teaching, Augustana's location in the Quad Cities provides ample opportunities for internships and community outreach. 
The data analytics major and minor will be open to any student on campus, regardless of major area of interest. Any department whose majors need to analyze large volumes of data will be good candidates to participate in this program. A partial list includes accounting, business administration, biology, computer science, geography, mathematics and psychology. In 2016, there were 350 business majors, 136 accounting majors and 321 biology majors. Those three fields of interest combined made up 42% of the graduating class. By offering data analytics as an interdisciplinary program that appeals to some of our largest majors, it becomes much more likely that the minor and eventually the major will attract a high number of students pursuing proficiency in this field.
Augustana's Investment
Augustana is in an excellent position to create a data analytics program because of our strengths across traditional liberal arts disciplines; historically strong math, accounting and natural science programs; and excellent connections with area employers for internships and job placements. During the last 10 years, Augustana has an excellent record of accomplishment in academic program innovation and creation. The college has added creative writing, engineering physics, graphic design, multimedia journalism and mass communication, neuroscience, public health, and the Upper Mississippi Center for Sustainable Communities. These are all highly subscribed programs that were created by forward thinking individuals in response to student interest, workplace demands and market needs. The data analytics minor will be in place as early as 2018, with the major to follow by 2020.