Celebration of Learning 2023 Oral Presentations I
10-11:15 a.m.
Special events
Hanson 102 (Session Room D)
Jorgan Voigt
Old Main 132 (Session Room G)
Robert Burke '20
Dr. Sarah Lashley
Lizandra Gomez-Ramirez '17
Dr. Mark Safstrom
Dr. Chris Strunk
Dr. Jane Simonsen
→ Hospital Economics, Ethics and Utilizing Principles of Positivity in the Face of Adversity (Voigt)
Presented by Jordan Voigt '09
Special event
Hanson 102 (Session Room D)
Sponsored by the Augustana Center for the Study of Ethics.
→ So All May Flourish: Towards a More Inclusive College History (Burke, Lashley, Gomez-Ramirez, Safstrom, Strunk, Simonsen)
Presented by Robert Burke '20, Dr. Sarah Lashley, Lizandra Gomez-Ramirez '17, Dr. Mark Safstrom, Dr. Chris Strunk, Dr. Jane Simonsen
Special event
Old Main 132 (Session Room G)
Description to come.
→ Capturing Meaningful Moments: Teaching Photojournalism in Nepal (Yaschur, Walton)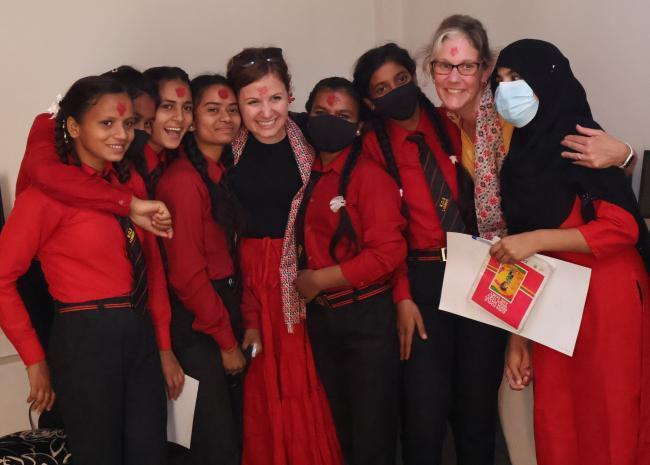 Presented by Dr. Carolyn Yaschur and Sarah Walton '23
Student-faculty collaboration
Olin Auditorium (Session Room A)
Dr. Carolyn Yaschur and Sarah Walton (MJMC, communication studies and theatre performance triple major) will share their experience in Nepal. 
Last fall they traveled to Nepal for three-and-a-half weeks to teach an after-school photojournalism workshop and mentor girls at the Karuna Girls School in Lumbini. Girl Reports is an international nonprofit dedicated to empowering girls through journalism education. 
They will discuss how their collaboration came together and what they learned from traveling and working with each other on this project. They will also share stories and photos of their experiences and adventures.
Texas Medical Center
Old Main 117 (Session Room E)
Chair: Dr. Heidi Storl
Ella Aldridge
Moreen Akomea-Ampeh 
Alexander Mortenon
Benjamin Finkenbine
Alison Lawrence
→ Summer Research Internship Project: Feasibility of DIGEST, a 6-year Single Institution Implementation Study (Aldridge)
Presented by Ella Aldridge; advisor Dr. Heidi Storl
Texas Medical Center
Old Main 117 (Session Room E)
This study was designed to look at the feasibility of a summary, severity tool known as the dynamic imaging grade of swallowing toxicity (DIGEST). DIGEST was developed originally to quantify swallowing safety and efficiency in the head and neck cancer population. This was a retrospective study that followed over 13,000 modified barium swallow study notes recorded by speech-language pathologists from 2016-2022. The results showed that DIGEST is very feasible in the clinical setting.
→ Investigating the Role of Nuclear receptor binding SET Domain protein 1 (NSD1) in Methylating Mitotic Kinase - Aurora Kinase A (AURKA) (Akomea-Ampeh)
Presented by Moreen Akomea-Ampeh; advisors Dr. Ruhee Dere, Dr. Heidi Storl
Texas Medical Center
Old Main 117 (Session Room E)
I interned at the Center for Precision and Environmental Health, Baylor College of Medicine where we studied Renal Cell Carcinoma. Here, we looked at how protein-protein interactions specifically methylation, can be used to regulate high levels of Aurora Kinase A (AURKA).
→ Norovirus GII.3 Protease Structure and Inhibition Studies (Mortenson)
Presented by Alex Mortenson; advisors Dr. Heidi Storl, Dr. Patrick Crawford 
Texas Medical Center
Old Main 117 (Session Room E)
Human norovirus is an RNA virus of the family Caliciviridae. It is a highly contagious virus causing acute gastroenteritis, infecting over 20 million Americans annually. Although symptoms are typically limited to several days of vomiting, diarrhea, and stomach pain, norovirus infection can be life-threatening to younger and immunocompromised patients. Currently, there are no approved antivirals or vaccines against it. However, previous studies have identified the norovirus protease enzyme as a strong target for inhibition. The current approach to inhibition is designing compounds that bind to protease's active site or the substrate-binding pockets located nearby. However, the small structural variations between different genetic variants of norovirus have prevented the development of broad-spectrum inhibitors. The genotype GII.3 norovirus comprises a significant proportion of worldwide norovirus outbreaks, yet its atomic structure remains unknown. This research investigates the underlying structural biology of the GII.3 norovirus protease and examines potential protease inhibitors. GII.3 protease crystals were grown and will be used to obtain the first crystal structure for this variant. This will allow future research to determine notable differences in structure between GII.3 protease and other norovirus genotypes. Furthermore, the in-silico screening conducted predicts several compounds to be strong protease inhibitors. Together, this research will contribute to the development of broad-spectrum inhibitors that can target different genotypes of norovirus.
→ Investigation of Phosphorylated Pro-Drug Led Inhibition of ENO2 in ENO1-Deleted Cells (Finkenbine)
Presented by Benjamin Finkenbine; advisor Dr. Heidi Storl
Texas Medical Center
Old Main 117 (Session Room E)
Over the summer, I worked at University of Texas MD Anderson, in the Cancer Screening and Imaging Departments, where I helped synthesize and test the effectiveness of three new drugs in combatting Eno1-deleted cancers, such as Glioblastoma.
→ CCR7 Immune Cell Receptor Expression in Inflammatory Breast Cancer (Lawrence)
Presented by Alison Lawrence; advisor Dr. Heidi Storl
Texas Medical Center
Old Main 117 (Session Room E)
Inflammatory breast cancer (IBC) is a rare form of breast cancer that is characterized by invasion of tumor emboli into lymphatic vessels. CCR7 is an immune cell receptor involved in immune cell movement into lymphatics that is upregulated in IBC. Our objective was to investigate the prevalence of CCR7 in estrogen receptor (ER) positive and negative IBC tissues to understand its role in IBC proliferation and potential novel therapies.
French
Lindberg 205 (Session Room B)
Chair: Dr. Taddy Kalas
Corinna McNeill
Kiera Kunstman
Abigail Johnson
→ Gender Roles and Unrequited Love in the Tragedies of Racine (McNeill)
Presented by Corinna McNeill; advisor Dr. Taddy Kalas
French
Lindberg 205 (Session Room B)
This project analyzes the theme of unrequited love in Racine's tragedies and how gender and power play a role in the response to unrequited love. It looks at how the similarities and differences in how female and male characters respond to unreciprocated love. This study also looks at how gender roles are specified and how too much power and responsibility, as well as too little power to follow their desires leads to entrapment. 
→ Female Confidants in Jean Racine's Tragedies (Kumstman)
Presented by Kiera Kunstman; advisor Dr. Taddy Kalas
French
Lindberg 205 (Session Room B)
This will be a presentation of my dissertation, an analysis on Jean Racine's Tragedies. Specifically, I will be talking about the confidentes.
→ Forms of Address within the works of Racine (Johnson)
Presented by Abigail Johnson; advisor Dr. Taddy Kalas
French
Lindberg 205 (Session Room B)
An analysis of the different forms of address (titles and other appellations) across the works of French playwright Racine.