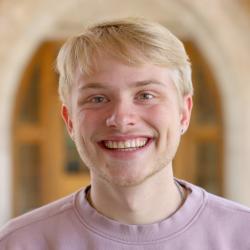 More Than I Imagined
Seniors reflect on accomplishments and look ahead
Zach Bohrer
Graduation year: 2023
High school: Larkin High School
Hometown: Elgin, Ill.
Majors: Spanish, communication studies
Activities: Delta Omega Nu fraternity, Greek Council, Augustana Symphonic Band, Augustana Crew Team, First Year Peer Mentor, Student Alumni Board, Senior Class Gift Planning Committee
Internship: Augustana's Office of Alumni Relations social media intern
Post-grad plans: I'm planning on moving down to Florida to do the Disney College Program. It's always been a dream of mine to work for Disney at some point in my life, and I decided no better time like the present!
Why Augustana?
Because choosing Augustana was the responsible thing to do. It was far enough away from home, the financial aid was great, and it had amazing programs in all my interests. I always envisioned myself going elsewhere because I had family at Augustana already, but I've learned sometimes life has different plans and those plans led me to Augustana.
Today, I wouldn't have it any other way. The education, social environment and kind people gave me the college experience I always wished for.
Are you where you thought you'd be when you first came to campus?
Absolutely not! I've grown as a leader, a scholar, a mentor and overall I feel more secure in myself than I could've ever imagined before. The life-changing experiences I've been lucky to have helped open my eyes to all that is out there to explore, see and learn — even more than I thought possible before Augie.
So while I am in no way where I thought I'd be when I first got to campus, I feel exactly where I need to be for my future that so excitedly awaits.
Who helped you get to where you are now?
So many people!
To name a few, Dr. Ana Bodería-García and the rest of the Spanish department, Beth Melton from admissions, and my lovely roommates —  Bailey King, Hannah Weber, Brian Heffernan and Ben Grafe — whom I've had the pleasure of living with for the majority of my time at Augie.
The advancement and alumni relations offices, which include the likes of Brinton Vincent, Kelly Noack, Krista Rittenhouse and Evan Sammons, whose energy always helped me to feel included and inspired.
My fraternity brothers in Delta Omega Nu, who taught me about acceptance and compassion.
And of course, my family who continues to push me to new horizons.
They have all been instrumental in my growth as a person, and I'm so fortunate to have them. However, a huge joy of going to a school like Augie is the fact that nearly everyone I've had the privilege of coming in contact with has had an amazing impact on my experience, and I'm so grateful for all my people!
Peak experience?
My study abroad experiences for a semester in Sevilla, Spain, and then a two-week tour of Japan with the Augustana Symphonic Band have by far been my highlights. As I've learned, there is nothing more important than exposure to cultures and peoples from around the world.
The lessons I learned about independence, cultural appreciation and facing unknown challenges head-on are invaluable. Doing all this while learning and traveling with some of the greatest people I've ever met was incredible.
What surprised you?
The nature and beauty of Augustana! I have a strong feeling that the majority of people who attend Augustana know how gorgeous of a campus it is, but what surprised me was how much I enjoyed those surroundings.
There's nothing quite like being able to soak in all 115 acres of wooded bliss each and every day, and that direct contact with nature has been so lovely.
How did you use your Augie Choice?
I used my Augie Choice for my semester abroad in Spain! It helped pay for some of the travel expenses while I was there learning about and exploring all that Spain and the rest of Europe has to offer.
What will you miss the most?
This one's easy: my amazing friends and mentors. I touched on it before, but Augustana is a really flourishing community, and a privilege of that is that there's such a great opportunity to meet so many more people. Through activities in Greek Life, admissions and all the extracurricular activities I've done, I've gotten to know such incredible folks. Not getting to interact with my Augie community on a daily basis will be what I miss the most.
Advice for the Class of 2027?
If there's something that has always interested you or you've always wanted to do, just do it. Try to avoid second guessing and overthinking when it comes to the opportunities that will be presented to you. Enjoy the ride!
"I've enjoyed having Zach in my classes over the past few semesters. He brings joy, kindness and a contagious enthusiasm to each class he attends. Zach has genuine appreciation and respect for others and has a zest for learning about people of other cultures. His passion for music, dance and the arts spills into all aspects of his life, and I'm excited to see where his liberal arts education takes him!"