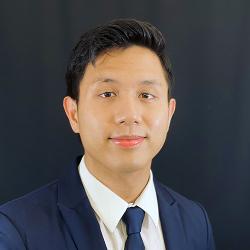 More Than I Imagined
Seniors reflect on accomplishments and look ahead
Virgel Ross Carrillo
Graduation year: 2023
High school: Ateneo de Manila High School
Hometown: Manila, Philippines
Majors: Accounting, business administration-finance
Minors: Data analytics, economics
Activities: Filipino Student Organization, International Student Senator
Internships: Part-time accounting student John Deere; audit intern Crowe LLP
Post-grad plans: Commission as an officer in the U.S. Army Reserve; CPA Licensure Exam; full-time audit staff Crowe LLP
Why Augustana?
I chose Augustana because of its unique learning opportunities and great mentorship programs. Augustana helped me create networks and build relationships with different companies and organizations.
Most importantly, the college has helped me gain meaningful relationships with other students and professors with different campus involvements.
Are you where you thought you'd be when you first came to campus?
In my four years here, I would say I have accomplished more than I ever expected of myself. As an international student, I felt like I belonged on campus. The college, together with my mentors, have helped me build confidence to embark on future endeavors.
I was involved in a lot of student organization events as an executive officer, and I am currently enlisted in the U.S. Army Reserve.
Who helped you get to where you are now?
I cannot thank my advisors enough because they helped me get where I am right now.
Aside from planning the future, they always opened their doors to chat and listen whenever I would need help with anything. They provided me with endless opportunities that would give me options for my future plans. They never failed to point out my strengths and weaknesses whenever I asked for advice.
I also want to express gratitude to my parents because they allowed me to go out of my comfort zone and come here to the U.S. by myself.
Peak experience?
Balancing different responsibilities as a student, an executive member of an organization, and as an enlisted soldier of the 389th Engineer Company. This made me holistically grow as an individual, and I learned from both the wins and losses.
Balancing all of my responsibilities introduced me to the realities of life. This experience set me up for success by learning from mistakes and planning for the future.
What surprised you?
The main thing that surprised me was how I instantly felt that I belonged to the Augustana community. As an international student, I thought that I would have difficulty adjusting to a different culture. But all the opportunities on campus made Augustana a home away from home.
What will you miss the most?
Although I look forward to what the future holds for me, I will definitely miss the student organizations and campus events.
I will always look back and appreciate the friends who supported and helped me along the way to my success. The relationships that we have are valuable connections that I will treasure for the rest of my life. We all have been through the same struggles, and together we all accomplished our own respective goals.
Advice for the Class of 2027?
Be brave. Do not worry about making mistakes. These hardships and struggles make you stronger as an individual. Always have a support system that will guide you through your decisions. Today may not be great, but be grateful and hopeful for tomorrow.
"Discipline and hard work are the first two things I think about with Virgil. At Augustana, he not only excelled in classes but also was involved in military training. In the past four years, I have not seen him in bad humor, even when he was worried about his family. Whether it be in classes, his training, his internships or his job, he put in 100% of what he could give, and he did it with grace. He is analytical and thoughtful about people, about options in front of him, and about life and the world. I am so very excited to see what he does as he leaves us."