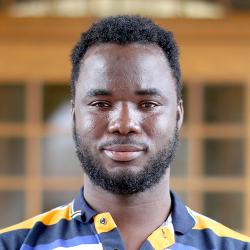 More Than I Imagined
Seniors reflect on accomplishments and look ahead
Shadrick Muntari Whabyely
Graduation year: 2023
High school: St. Peter Claver Catholic High School
Hometown: Buchanan, Liberia
Majors: Geography, economics
Activities: African Students Association, Office of International Students and Scholar Services, Office of Residential Life, Geography Club, French Club, Augie Catholic Community, Economics Club
Internships: Rock Island Conservation District; Tom A. Finch Community; geo intern at Kupugani
Post-grad plans: Attend University of Illinois Springfield for a double master's degree in environmental planning and management and international business
Why Augustana?
I selected Augustana for its superior financial aid package, providing the most support among my 10 acceptances. Additionally, Augustana offers exceptional liberal arts education, boasting small class sizes and individualized attention from professors, with plentiful opportunities for internships, research and study abroad.
Its inclusive and diverse community reflects my values of sustainability, and I felt that Augustana was the best fit for my academic and personal growth.
Are you where you thought you'd be when you first came to campus?   
My first weeks at Augustana were challenging as I battled homesickness and adapting to a new culture. However, the support of my professors and peers was invaluable. I've experienced personal growth and gained independence, confidence and open-mindedness.
I've also formed lifelong friendships and learned the importance of cultural competency. My time at Augustana has been transformative, and I'm grateful for the opportunities and growth it has provided me.
Who helped you get to where you are now?
I am deeply grateful for the unwavering support and encouragement I received during my academic journey. Dr. Christopher Strunk and Dr. Chris Marmé, my advisors, helped me identify my strengths and interests, guiding me in selecting courses and extracurricular activities.
Arslaan Nasser and Liam Meal, my best friends, inspired and supported me, providing me with a sense of belonging and strength. My fellow Lift Liberia scholars, Abdul Kamara, Marthalyn Zarwolo, Mas Suah and Silas Gilklay, celebrated my successes and offered encouragement and motivation to stay focused on my goals.
My host mom, Julia Michaels, provided a supportive environment to grow and thrive. Dr. Sharon Varallo, Mrs. Diane McCann, and the late aunty Rita Zulu and her family were invaluable in helping me to navigate the challenges of college.
My family provided emotional, financial and academic support, enabling me to achieve my dreams.
I am forever grateful to all of them for their instrumental role.
Peak experience?
My internship with the Rock Island Conservation District was a peak experience. I conducted soil tests and advised farmers on suitable crops, gaining a new perspective on soil research. This highlighted the need to expand my knowledge of environmental management and policy to improve my research methods beyond geography.
What surprised you?
I was surprised to find a strong emphasis on community, in addition to academics, with many clubs and organizations available. The African Student Association's cultural show demonstrated the college's commitment to diversity and unity. Augustana fosters a welcoming environment for all students, promoting inclusivity.
How did you use your Augie Choice?
I used my Augie Choice for the Rock Island Conservation District internship, using it as a research stipend to cover expenses.
What will you miss the most?   
Saying goodbye to Augustana is bittersweet. I'll miss the close-knit community, stimulating classroom discussions and campus events like SloughFest and AfroFest. Most of all, I'll miss the cherished moments spent with my closest friend, Arslaan Nasser, and our weekly outings to Raising Cane's Restaurant.
Despite my sadness, I'm grateful for the experiences and opportunities that Augie has provided me. I'll forever treasure the lessons learned and the memories made within this great community.
Advice for the Class of 2027?
Cultivate a growth mindset to overcome obstacles. Develop study habits, time management skills and positive relationships. Engage in extracurriculars, explore interests and serve the community. Stay curious and open-minded and pursue personal growth both in and out of class.
"Shadrick has grown a lot in the past four years, and I've been impressed with his intellectual curiosity and eagerness to contribute to every community he is part of. Shadrick is passionate about sustainability and has worked hard to develop a career path that will allow him to address environmental challenges in his native Liberia, and he also developed a fascinating Senior Inquiry on the experiences and belonging of international students at Augustana. I'm looking forward to seeing what he accomplishes next!"