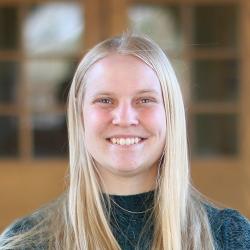 More Than I Imagined
Seniors reflect on accomplishments and look ahead
Sarah Elrod
Graduation year: 2023
High school: Cherokee Trail High School
Hometown: Aurora, Colo.
Major: Music education (instrumental)
Minor: Theatre arts
Activities: Sigma Alpha Iota-Delta Tau, Augustana College Music Education, Secondary Musical Instrument Lab Ensemble, Augustana Symphonic Band (ASB), Augustana Symphonic Orchestra, Clarinet Choir
Internships: Student teaching at Sudlow Intermediate, Eisenhower Elementary and Garfield Elementary in the Davenport Community School District
Post-grad plans: Teaching either general music or band
Why Augustana?
I knew I wanted a small college that valued both education and music, and Augustana was exactly that! I loved the beauty of the campus and the support I felt on campus was amazing. I met Dr. Lambrecht when I toured and attended his brass methods class and instantly knew I wanted to learn with him. He was easy to talk to in my interview and had positive relationships with all the students in his class and around the building.
Are you where you thought you'd be when you first came to campus?
I am not where I thought I would be at all! I knew that I wanted to be in leadership whenever I could, but I think I surpassed what I imagined I could do. I have had countless opportunities to try new things like playing trumpet in a band, being a props master and presenting at state conferences.
Who helped you get to where you are now?
The list goes on and on!
My family has supported me every step of the way by flying out to see my shows and concerts and always being a call away.
Dr. Lambrecht was one of the first people to welcome me when I toured, and we chatted about a little bit of everything, including our shared love of "Yellowstone." He has always trusted in me and is confident in me.
My advisors Dr. Farmer and Dr. Rathgeber have supported me every step! Dr. Farmer kept me on track and made sure I achieved everything I put my mind to. Dr. Rathgeber trusted me and invited me to present with him and has encouraged my curiosity about our field. My clarinet teacher Dr. Matera has helped me find my love of playing the clarinet.
My classmates for always being around. My best friend Lauren for always being by my side and my boyfriend Ben for attending every concert and listening to me practice my homework.
Peak experience?
Traveling to Japan with the ASB and playing with Japanese students in three concerts across the country. The whole trip was amazing! I talked with students from Japan, learned about the rich culture and history of the country, and even made it to Tokyo DisneySea. My favorite experience was playing Percy Grainger's "Irish Tune from County Derry" in Toyota City Concert Hall.
What surprised you?
How much I've grown! This year I have really been able to reflect on the growth I have made. I have played music I never thought I'd be able to play, conducted entire concerts by myself and presented at music educator conferences across the country.
How did you use your Augie Choice?
I used my Augie Choice to travel to Japan with the ASB this year. This was an experience three years in the making, and it was life-changing!
What will you miss the most?
I will miss my community! I love being able to talk to anyone and everyone I run into in the Bergie, and I will miss all the random conversations I had during school. I will miss my classmates and all of our shared experiences.
Advice for the Class of 2027?
You got this! Trust your gut and do your best. You can do anything you want to, and even if things go wrong, your community won't let you fail.
"Sarah is a curious and passionate member of the music community. She gives of her time to help groups, such as the Augustana College Music Education student organization (ACME) and Sigma Alpha Iota, and the community, including mentoring K-12 learners and facilitating AugiePlay events. Her curiosity has led her to present her work at numerous state music educators associations. Sarah is a passionate music educator ready to develop responsive content, cultures of feedback and adaptive environments to construct meaningful musical experiences with students."