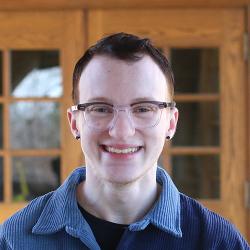 More Than I Imagined
Seniors reflect on accomplishments and look ahead
Riley Scranton
Graduation year: 2023
High school: Quincy Senior High School
Hometown: Quincy, Ill.
Majors: Art history, theatre arts (concentration in design and technology)
Minor: Psychology
Activities: Augustana's Theatre Scene Shop
Internships: Shadow the technical director at Augustana's Scene Shop during J-term 2022; lighting designer and assistant technical director for the Quad Cities Chapter of "Penguin Project" during J-term 2023
Post-grad plans: I will be working as a Resident Teaching Artist through ArtistYear AmeriCorps. I will be helping to address inequities in arts education by working with K-12 students in low-income schools in Moore County, N.C.
Why Augustana?
When I applied, I had no intention of attending. During my campus tour, something clicked. I got a strong feeling of "I'm meant to be here." Having severe anxiety, I knew that the transition to college would be harder on me than my peers.
As I got further into the admission process, my feeling of belonging intensified — from my admission interviews, meeting my peer mentor and more. These interactions and sense of home made the challenges I faced on campus easier to tackle, when they arose.
Are you where you thought you'd be when you first came to campus?
Not at all. I came to Augustana with the intention of majoring in psychology and public health, and only doing theater to maintain my scholarship. When I arrived, I realized how much I missed theater and that rush of working on a show. And before I knew it, it was major declaration day.
Along with discovering the field of art history, a subject that I did not realize was out there and possible to pursue, I have since reignited my passion for the arts and affirmed that it is the career path for me.
Who helped you get to where you are now?
My rock has been my mom. My mom has never shied away from supporting me during times when others didn't support me. Through it all she has been there to listen and cheer me on, and without her, I wouldn't have made it here.
Also, several faculty members that I have worked with on campus have made it possible for me to have successfully made it this far:
Dr. Samantha Keehn, my first-year advisor; Dr. Kiki Kosnick, who allowed me to join their higher level WGSS class during my sophomore year and was in my corner outside of the classroom; Dr. Margaret Morse, my art history advisor who introduced me to a new found love; Dr. Jennifer Popple, who allowed me to be an important part of her production team; Shelley Cooper, who persistently followed up with me until I declared my major and is my advisor and mentor; and Mike Turczynski, who quickly made up for the two years we "missed" working together, and more. 
Peak experience?
Working on my Senior Inquiry (SI) projects (Artwork in the Brunner Theatre Center). I have been able to choose topics for both of my Inquiries that I am passionate about and follow more non-traditional paths that have been done in the past.
I have not only worked closely with my advisors, but I have been able to collaborate with other faculty members, who have helped me expand my SIs. I am excited to finish my Senior Inquiry projects after almost over a year of work, and to share them with the campus community.
What surprised you?
The experiences that I have had while at Augustana. I have had the opportunity to work on campus, the first being the Center for Visual Culture. I was able to work hands-on with the art pieces that the school owns, doing various tasks. The second place I worked on campus was the theatre department's Scene Shop, allowing me to work with several faulty members one-on-one.
How did you use your Augie Choice?
I used it to fund an unpaid internship with the Quad Cities chapter of "The Penguin Project." During the first rehearsal that I sat in on, I quickly fell in love with the atmosphere that was created. I used Augie Choice to pay for the work I did as the lighting designer for the 2023 show.
What will you miss the most?
The daily interactions that I have with all of the faculty members — from the daily conversations in their offices and common spaces in the building. Allowing them to know not only who I am as a student, but as an individual.
Even the interactions that I have with faulty members I barely know. They make a point to engage with me when we pass on campus. The sense of community and interacting with faculty while traveling around campus will be one of the biggest things I will miss.
Advice for the Class of 2027?
Don't be afraid to reach out. Make connections with faculty members. Creating and building relationships with them allow you to go to them when you need support. It's often hard to remember that although they are authority figures and scary, they are just as human as us.
"During his time at Augustana, Riley has grown tremendously as not only an artist, but as a leader and an educator. His work in the theatre department can be seen in almost every production we do whether it be through his design work, his leadership in the scene shop, or his mentoring of younger students. He is constantly seeking to create the best possible production given whatever circumstances are thrown his way. He is ready to take on whatever his next challenge may be."