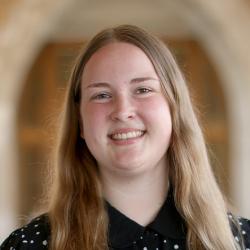 More Than I Imagined
Seniors reflect on accomplishments and look ahead
Rachel Heikkinen
Graduation year: 2023
High school: Palatine High School
Hometown: Palatine, Ill.
Majors: Pure mathematics, general music, Spanish
Activities: Sigma Alpha Iota-Delta Tau, Jenny Lind Vocal Ensemble, Augustana Symphony Orchestra, Augustana Chamber Orchestra, Phi Mu Alpha sorority, Young Life
Internships: Research Experience for Undergraduates at the University of Michigan, Dearborn; Research Experience for Undergraduates at Iowa State University
Post-grad plans: I will be getting my PhD in mathematics at the University of Wisconsin, Madison!
Why Augustana?
When I was deciding on a college, I wanted three things: a small liberal arts school where I wouldn't be just a number, the flexibility to study both math and music, and the opportunity to study abroad. Augustana met all of my criteria and more!
When I visited, I got the impression that the college wanted the students to succeed and was willing to help in any way possible. I also was impressed by the strong music department and the fact that students could be in multiple ensembles.
Are you where you thought you'd be when you first came to campus?
Absolutely not! I had no idea what career I wanted to pursue when I came to Augustana, but I knew that I enjoyed learning about math and music. I had no idea that I would be able to get a triple major (adding Spanish to the mix) and have a strong outlook on my career goals going forward.
I am also proud of how far I have come academically and personally. My college experiences have helped me think critically, develop my own outlook on the world and challenge myself to be better every day.
Who helped you get to where you are now?
I have been blessed with amazing mentors throughout my time here. Jon Clauss and Stacey Rodman are both professors from whom I have learned so much and who have helped me see my future as a math professor. From writing letters of recommendation to advising to giving graduate school advice, their support has been unmatched.
I owe so much of my personal growth as a musician to my music lesson teachers — Deb Dakin, Patrick McNally, Kelly Hill and Juan Carlos Mendoza. Each has played a special role by working with me one-on-one to improve my musical abilities and prepare me for a senior recital!
I would also like to thank Michael Zemek for making Jenny Lind an incredible choir experience that reminds me every day why it is that I make music. Dr. Schmidt, my Senior Inquiry advisor, also deserves a shoutout for always making me smile.
Finally, my family, friends, coworkers and everyone who has made a positive difference in my life through their support has helped me be the person I am today.
Peak experience?
My peak experience was getting to study abroad in Seville, Spain, for my fall semester of junior year. I loved being surrounded by a different culture and learning about the customs of Spain. I also made so many new friends by involving myself in a choir and meeting new people on my travels. The relationships that I made in those three months are ones that I will carry with me forever.
What surprised you?
I was surprised by how easy it was to make friends. As someone who considers themselves an introvert, I was nervous about being away from my friends and family when I came to college. However, on the first day, I met so many people, some of whom are still my friends. Since then, I have made many other friends who have made my time at Augie incredible.
How did you use your Augie Choice?
I used my Augie Choice for my study abroad trip to Spain.
What will you miss the most?
I will miss Augustana's community of people that has surrounded me for the past four years. I love that I can see my friends every day in our little Augie bubble. Even just saying "hi" to familiar faces on campus has always given me the sense of community and stability. I will miss being so close to the people I care about.
Advice for the Class of 2027?
Do what you want to do! You are the one living your life, so don't let other people govern how you should live it. Be involved in the groups that interest you; choose the major that captivates you regardless whether you see a good-paying job in the future; surround yourself with people you like.
"What do students taking full advantage of their liberal arts education at Augustana look like? Look no further than Rachel! A triple major in math, Spanish and music, Rachel has completed two math internships, studied abroad in Spain, and plays viola in the orchestra while also singing in the Jenny Lind Vocal Ensemble, where she serves as the choir manager. I truly admire Rachel's engaging spirit, confident leadership and full commitment to all that she does."