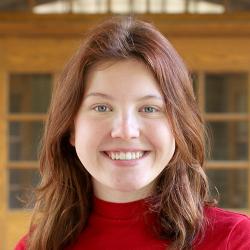 More Than I Imagined
Seniors reflect on accomplishments and look ahead
Peyton Heisch
Graduation year: 2023
High school: Rockridge High School
Hometown: Illinois City, Ill.
Major: Environmental studies
Minor: Sociology and anthropology
Activities: Sigma Pi Delta sorority, student research, peer mentor
Internships: Research assistant, Augustana's Upper Mississippi Center
Post-grad plans: Sustainability manager at Augustana for environmental public health work and research
Why Augustana?
I chose Augustana because it was close to home.
Are you where you thought you'd be when you first came to campus?
I never thought I would be where I am today. I have been given so many opportunities by professors and my advisor. With their help I have learned so much.
I also have learned so much from a liberal arts education by being able to bring interdisciplinary concepts together that I am passionate about.
Who helped you get to where you are now?
The people who have helped me the most are my family. My mom, dad, sister and grandma have been my biggest supporters to get me through college emotionally and academically! I love you guys!
I also have benefited from my advisor Dr. Lashley, who I look up to as a role model. She helped me carve out my schedule, as well as supported and opened new opportunities to me academically. I was able to first dabble in student research because of my advisor, and then she was able to push me towards more student research opportunities, which have influenced my academic interest and experience immensely.
Dr. Reisner, Dr. Geedey and Dr. Murphy have also been extremely influential in my academic development and support.
Within my academics, I also have been greatly impacted by the environmental studies graduates of 2023 who have been with me through numerous meetings, discussions and projects.
I am thankful for all my friends, too.
Peak experience?
My peak experience was doing student research over the summer through the Upper Mississippi Center.
It was the most transformational period of my college years because I got to use my interests in action and for the good of community and science. It was fun and helped me overcome imposter syndrome.
I enjoyed the variety of tasks from water sampling in waders to talking to a farmer about his perspective on the local watershed.
What surprised you?
I am most surprised by how many opportunities have come to me while at Augustana.
How did you use your Augie Choice?
I used my Augie Choice to go to Cambodia. I learned so much from my professors and the experience on this study-abroad. I loved the Elephant Sanctuary NGO Elephant Valley Project that we stayed at for a week. Go follow @evpcambodia on Instagram!
What will you miss the most?
I will miss learning the most. I enjoy being in the presence of professors who have niché interests. I like to have conversation and be in classes about real-world things. I like to learn from people who know a lot more than me.
I will miss being in classes that give me the tools to understand complex things, and the interconnections between all the classes and conversations I have.
Advice for the Class of 2027?
I think the best thing to do in college is be self-reflective and do your best, while always making sure to take care of yourself.
"One of Peyton's greatest strengths is her ability to seamlessly integrate across the social and ecological dimensions of environmental problems in real-world contexts. Peyton is also a quiet, critical thinking leader capable of organizing and mentoring colleagues with a diverse array of interests, passions and motivations to accomplish the goals of community-driven projects."