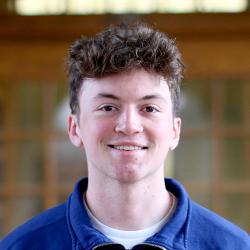 More Than I Imagined
Seniors reflect on accomplishments and look ahead
Paul Huber
Graduation year: 2023
High school: Oak Park and River Forest High School
Hometown: Oak Park, Ill.
Major: Secondary education history
Activities: Varsity lacrosse (captain, 2x All-CCIW, IMCLA all-region)
Internship: Student teaching at Rock Island High School
Post-grad plans: Pursue a career in teaching high school history and coaching lacrosse
Why Augustana?
I chose Augustana because it allowed me to pursue an education degree through a rigorous program that would challenge me academically. This, along with the beautiful campus and the people I met on my many visits, made my decision. I knew I wanted to go to Augustana after my first visit.
Attending Augustana also allowed me to further my athletic career in lacrosse. Lacrosse has made a significant impact on my life, and continuing to play was something I wanted.
Are you where you thought you'd be when you first came to campus?
To put it simply, absolutely not. Since I arrived on campus in 2019, I believe I have grown not only as a student but a person, teammate, leader, friend and more. I give much credit for this to my time at Augie, allowing me to discover what drives me and molding me into the type of person I wish to become.
Who helped you get to where you are now?
My family and parents have always been there for me. Supporting me throughout my entire life, and especially my time at Augie. Always having a source for advice and someone to talk to has absolutely helped in getting me to where I am today.
The professors' academic support and work have benefited my success here — specifically, the education department and my advisor Dr. Scarlett have pushed me to be the best version of myself. Without the support Dr. Scarlett has given me through my four years, I would not have found the success that I am so thankful for.
I would also like to thank my cooperating teacher during my student-teaching experience, Mike Mertel, who pushed me and mentored me as I learned to lead a classroom.
My lacrosse teammates, coaches and support staff have given me opportunities to grow that I could have never imagined. I am so thankful for the friendships created from being on the team, and my teammates who helped me grow as a leader.
Peak experience?
My peak experience was my student-teaching at Rock Island High School. As someone who studies to become an educator, the exhilarating feeling of having control of an entire classroom is one that I will never forget.
Working with the students every day and helping them grow made all of the late nights and early mornings worth it. I wouldn't give up this experience for anything, and I will be eternally grateful for what it has provided for me.
What surprised you?
I was surprised by the support and guidance that Augie offered me. As a prospective student, you always hear about the professors and different supports that are offered to the students by admissions and tour guides. I was blown away by the availability and quality of the support offered here. I was surprised at how often I utilized these supports as well.
How did you use your Augie Choice?
I used my Augie Choice for my student-teaching experience. The money went toward professional dress, gas, rent and supplies that I found essential during my time at Rock Island High School. The money helped support me as I completed the experience.
What will you miss the most?
I will miss the social aspect of Augustana and the friends I made along the way the most. The friendships I made through lacrosse, classes and just being in communal areas will always stay with me. Being on campus and part of a community is something that I really appreciated throughout my four years.
Advice for the Class of 2027?
Read more "Frog and Toad are Friends." Live life simply. Appreciate what's in front of you. Floss. Don't take anything personally. Do things you're scared of. It's ok to not take everything seriously all the time, even yourself.
"Patience and perseverance are two qualities that are hard to teach but essential to have in order to be an effective teacher. It is these two qualities that most impressed me about Paul, especially during his student teaching at Rock Island High School. Paul always took the time to listen to what his students had to say. Even when things were difficult, he was someone they could turn to for help and encouragement. I am so excited to see where his career takes him!"