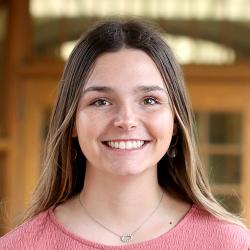 More Than I Imagined
Seniors reflect on accomplishments and look ahead
Mary Emory
Graduation year: 2023
High school: West Aurora High School
Hometown: Aurora, Ill.
Major: Elementary education
Activities: Peer mentor, Phi Rho sorority
Internship: Student teaching – 1st grade, Paul Norton Elementary School, Bettendorf, Iowa
Post-grad plans: To begin my career as an elementary school teacher
Why Augustana?
When I came to Augustana I knew by walking around the campus that this would be my home for the next four years. I loved how the faculty knew each other, knew their students and were involved on campus.
Everyone always talks about the "Augie Bubble," and they are correct. There is an Augie Bubble on campus, where everyone is looking out for each other and supporting one another's career paths.
Are you where you thought you'd be when you first came to campus?
No! I have grown, matured and changed in more ways than one since coming to Augustana. But, I believe that I am a lot more accomplished and farther than where I thought I could be when I first came to campus.
Augustana makes you want to strive to be the best version of yourself each day whether that be because the faulty love to push you to be better or your classmates push you to be better.
Who helped you get to where you are now?
Randy Hengst helped me get to where I am today. Randy is a very special person in the education department. When I arrived on campus my freshman year, I was still undecided on my major. But, I quickly knew I wanted to switch to elementary education, so I met with Randy.
At the time, he really intimidated me because I idolized him as a teacher. He pushed me every day to think outside the box, to go outside of my comfort zone and to think of learning in multiple ways. Even though he pushed hard at times, I knew that I could always go to him if there was something I needed help with.
He has helped me so much, especially during my senior year. I can always email him and know that I will get a response within minutes with advice, feedback or offering a time to meet to help me. I am so thankful that our class gets to be his last, and I hope he knows how many students' lives he impacted for the better.
Peak experience?
My peak experience would be my time as a student teacher. I was able to grow into the teacher I have always wanted to be through the help of my cooperating teacher.
I could not have asked for a better placement to help facilitate growth both in and outside of the classroom. I know because of my experience with my students and cooperating teacher that I can be the teacher I always looked up to in elementary school.
What surprised you?
I was surprised with how much Augustana pushed me outside of my comfort zone. Without the push of faculty members and classmates, I would have never become the person or teacher I am today. I am so thankful for all this campus taught about myself. I had so many opportunities to grow and learn about myself, others and my profession. I could not be more thankful.
How did you use your Augie Choice?
I used my Augie Choice to go to Jamaica for a J-term and teach abroad. For me this was the most eye-opening experience in the best way possible. I was able to learn so much from the culture, the students and the faculty at the school where I was teaching. It will definitely make me a better teacher.
What will you miss the most?
I will miss the constant feeling of being home. The friendships I have made on campus will be ones that stay with me a lifetime. But, I will miss taking classes with my education classmates as we were always there to help one another.
I will miss all the Phi Rho sorority events as Phi Rho was the first group of women who made me believe that I can be the person I am today.
Overall, I will miss being on campus in all the seasons because they are truly beautiful.
Advice for the Class of 2027?
Soak up every moment you have on campus. I know everyone says the four years go quick, but they truly do. Your time here will be measured by the activities you take part in and the people you surround yourself with. Everyone wants to see you succeed so reach out to those who can help!
"I worked with Mary as her advisor and professor for three years. In class and during advising, she consistently demonstrated a focus on mastering the responsibilities of elementary school teachers. While working with her in the weekly, student teaching seminar, it was obvious that she was enjoying and succeeding. Her self-analyses of teaching were thoughtful and focused on the accomplishments of her students. This spring I have enjoyed hearing about her substitute teaching and look forward to hearing about her work as a new teacher. Thank you for coming to Augie!"