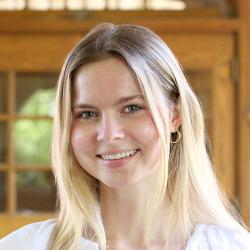 More Than I Imagined
Seniors reflect on accomplishments and look ahead
Mary Clare Koebel
Graduation year: 2023
High school: Rosary High School
Hometown: Geneva, Ill.
Major: Neuroscience
Minor: Biology
Activities: Phi Rho sorority, Augustana's ABCD Lab, Psi Chi psychology and neuroscience honors society, Mortar Board honor society, ODK leadership honor society, Student Research Club
Internship: Texas Medical Center Summer Research Internship Program
Post-grad plans: (hopefully) Continuing to do research in the psychiatry department of the Medical University of South Carolina in Charleston, S.C.
Why Augustana?
I chose Augustana because from the second I started my tour at Founders Hall, I knew it felt like home. I came on the snowiest day of the year and on one of the only days in history where Augustana canceled classes because it was too cold.
But despite the weather and lack of students around, I knew I could see myself there, especially with the new Hanson Science Building neuroscience lab expansion that they were working on!
Are you where you thought you'd be when you first came to campus?
At the end of each semester, I look back and realize how much I have grown from the year before. When I started, I wasn't sure who I wanted to be by the end of my time here, but I know who I am now is the kind of person I would have looked up to as a first-year, and my past self would be so proud.
I am not the same person I was when I started at Augustana and looking back, that is one of the things I am most grateful for in my experience here.
Who helped you get to where you are now?
It was a collective effort of forming my self in these past four years. From a social perspective, my Phi Rho sisters taught me to be confident in who I am and hold myself to high standards. The lifelong friendships formed through the group are the key to some of my best memories at Augustana.
In an academic sense, I am grateful for my professors who saw potential and challenged me to overcome any limits I thought I had. Dr. Lorenz, my supervised research advisor, especially guided me to be a leader and ensured that I always knew I had the capability to accomplish any dream I wanted. Also, Dr. Judith Kaur for her generous scholarship donation that aided my journey. 
In a personal sense, my parents who provided endless support, the opportunity to get a great education, and the countless two-hour drives to and from school were my backbone throughout my time here. They taught me to take advantage of every opportunity presented to me, and I would not be where I am now without their love.
Peak experience?
My peak experience was participating in the Texas Medical Center internship program. Not only was I able to be introduced to the world of scientific research, but I formed bonds with fellow Augustana students and experienced living in a new city.
The most special memory was meeting everyone else involved in the internship, with no more than a few students per school. With a group of eight students from a small school in Illinois, people were so amazed and wanted to hear about this so-called "Augustana."
What surprised you?
I am most surprised of how much I have grown in independence. Augustana offers a welcoming yet challenging environment that pushed me outside of my comfort zone with the side effect of becoming more self-sufficient and confident. I know I am capable of doing anything I set my mind to, and while help is there, I have the autonomy to do it on my own.
How did you use your Augie Choice?
I used my Augie Choice on funding my trip to Texas for my internship. While we received a stipend, I used my Augie Choice to fund travel and housing that overall benefited my experience. I was able to freely enjoy the experience without worrying about financial stability.
What will you miss the most?
I will miss everything from the close friendships I made with others and personal relations with the professors who served an excellent mentors to me to the beautiful green campus and historic buildings. The unique Augustana traditions and community are unlike anything I have seen at other schools, and they will always remind me why I chose my alma mater.
Advice for the Class of 2027?
Say yes! Take advantage of every opportunity that comes your way. If it doesn't work out or go well, that's okay! The most important advice I have is learn to fail. Being able to be comfortable with making mistakes, learning from them, but not letting them weigh you down is a superpower.
"I first met Mary Clare when she joined my lab in spring 2022. Although she could have been intimidated joining part way into the year, Mary Clare wasn't — instead, she absolutely flourished! She quickly became a leader in the lab, and it became clear that her persistence, patience and dedication extend well beyond the research context. She has fully embraced all parts of her Augustana experience, and I feel so grateful to know her. She has an incredibly bright future ahead of her!"