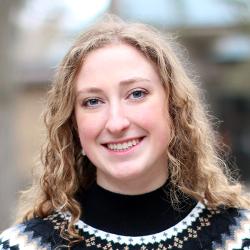 More Than I Imagined
Seniors reflect on accomplishments and look ahead
Margaret Lukas
Graduation year: 2023
High school: Mundelein High School
Hometown: Mundelein, Ill.
Majors: Neuroscience, biology (pre-physician assistant program)
Activities: Rowing Club, Psi Chi, Psychology Club, Beta Beta Beta, Chi Alpha Pi sorority, Bike Club, Viking Pups
Internship: Texas Medical Center Summer Research Internship Program
Post-grad plans: Take a gap year and work as a CNA or medical assistant while applying to physician assistant school.
Why Augustana?
For me, Augustana was the smart choice. It was close to home, the financial aid was good, and they had everything I needed to succeed. Initially, I wasn't in love with Augustana, or any school. So on a whim, I made the decision to come to Augie. And I'm so thankful that I did.
I have achieved everything I wanted and more because of this school. I have taken the best classes, made the best friends, and made the most incredible memories.
Are you where you thought you'd be when you first came to campus?
Yes and no. I have grown, learned and matured into the person I've always wanted to be. Professionally, I'm not exactly sure where I am, but I still don't know where I want to be in general.
I imagined I'd be applying to research labs and have secured a job. But instead, I'm taking a gap year and researching the difference between becoming a doctor, a physician assistant or a nurse practitioner. Who knows where I'll end up, but I'll never stop working towards my goal of helping others.
Who helped you get to where you are now?
I would not be where I am without the support of so many people. The most important influence in my life has always been, and always will be, my family. They are my rocks who lift me up when I'm down and cheer me on no matter what. My mom, my dad and my sister are my biggest supporters, and I could not be more grateful for their love and help.
Additionally, my friends have been by my side for the past four years, allowing me to live my life to the fullest and make some of the best memories. Specifically, Maddie R. and Olivia C. have been some of my best friends and biggest supporters, and I know I can always rely on them.
Finally, I would not have gotten where I am without the support of the faculty. Dr. Gehler, Dr. Stough and Professor Kennedy have been some of my favorite professors and personal role models. They have taught me not only about their respective field but also to believe in myself. Thank you all for everything.
Peak experience?
My peak experience was participating in the Texas Medical Center Summer Research Internship Program. I studied the interaction between neurons, cancer and the immune system, and eventually, my work will be published. I gained so many skills that will help me in the professional setting.
I had great mentors and built lasting relationships while also exploring who I was as a person. It was the most significant period of personal growth I've ever had, and I couldn't have loved it more.
What surprised you?
I was surprised by how much I loved Augustana. I was dreading coming to college and worried about finding my place in the world. But to my surprise, I have become so much more knowledgeable and confident these last four years, and it's all due to the wonderful Augustana community.
How did you use your Augie Choice?
I used it for my Texas Medical Center internship, specifically for housing and travel expenses.
What will you miss the most?
I will miss the camaraderie of Augie the most. Having been part of a sorority and so many groups, I have made so many lasting connections. I love that I see familiar faces every day and that I always feel welcome on campus.
I'm going to miss going to basketball games with friends, having study sessions with classmates and movie nights with my roommates. The bonds I've made here will last a lifetime, but the community itself I won't find anywhere else.
Advice for the Class of 2027?
The path you are on is not a straight one. There are going to be twists and turns and bumps in the road. Embrace the challenges and keep moving forward. Everyone has their own path; don't let the footsteps and pressures of others steer you of your path.
"Inquisitive, selfless, passionate, humble, authentic ... that's Maggie. As the only sophomore in an advanced neurobiology J-term course, Maggie impressed me with her remarkable ability to construct scientific narratives from complex journal articles. In fact, she thrives at being challenged with complex problems that require her to push her limits of understanding. The dedication Maggie exhibits is a testament to her determination to push herself to do better as well as invest in those around her to be better. What a privilege it has been to work with Maggie. She is a difference-maker!"