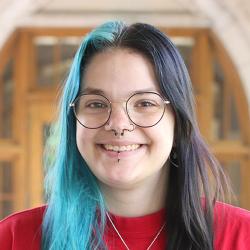 More Than I Imagined
Seniors reflect on accomplishments and look ahead
Maja Johnson
Graduation year: 2023
High school: Stillman Valley High School
Hometown: Stillman Valley, Ill.
Majors: Scandinavian studies, history
Activities: Swenson Swedish Immigration Research Center, Swedish Language Table Host, Scandinavian Club, V-Dala Student Nation
Post-grad plans: Uppsala University's Master's Programme in Scandinavian Studies
Why Augustana?
When I was looking for colleges, my one requirement was a Scandinavian studies program since I knew I wanted to keep studying Swedish. There are very few colleges in the United States that offer Scandinavian studies as a major and even fewer that also offer Swedish language classes. So when I saw that Augustana had both, it was immediately at the top of my list.
I also have relatives who have attended Augustana so I've heard good things about it since I was a kid.
Are you where you thought you'd be when you first came to campus?
From day one, I knew I wanted to study abroad in Sweden during my time here. I don't think I ever would have imagined, however, that I would have the opportunity to spend an entire year of my college experience in Uppsala, Sweden, taking a wide variety of courses, meeting people from all over the world, and even studying Swedish alongside native speakers.
The opportunities Augustana has provided have also directed me towards graduate school and continued studies in Sweden.
Who helped you get to where you are now?
My parents have always been my biggest supporters when it comes to education, and they have continued to support and push me during my entire college experience.
My family and friends, both here in the United States and in Sweden, have also been incredibly supportive, and my Aunt Shirley is a big part of the reason I ever started studying Swedish in the first place.
I have also had an incredible support system here at Augustana, including many amazing professors from a variety of departments and truly wonderful mentors in the Swenson Center.
I especially want to thank Dr. Safstrom and Dr. Henry in Scandinavian studies and Dr. Ellis and Dr. Leech in history for pushing me to be a better student and aim for my goals beyond Augustana.
I would also like to thank Lisa, Jill and Dag in the Swenson Center for giving me invaluable experience in the world of archiving.
Peak experience?
My peak experience was definitely studying abroad in Uppsala, Sweden. Getting the opportunity to spend a year immersing myself in Sweden's language and culture added a vital real-world element to my education and brought my study of Scandinavia outside of the classroom.
This experience forced me to speak Swedish with native speakers and constantly challenge myself. I also met many amazing people during my time abroad, including countless more wonderful professors and many amazing friends.
What surprised you?
I was surprised by the breadth of the education Augustana offers. I have had the opportunity to take classes in a wide variety of departments and meet students with majors and interests very different from my own.
How did you use your Augie Choice?
I used my Augie Choice to study abroad in Uppsala, Sweden.
What will you miss the most?
I will miss the community. I have met many truly amazing people during the last three years, and I would not be where I am without them. The Augustana community is unique and really makes the college feel like home.
Advice for the Class of 2027?
If you have the opportunity to study abroad, take it! There is nothing like taking your learning outside of the classroom and immersing yourself in another culture and maybe even another language. Augustana offers so many different study abroad programs; there is something for everyone!
"Maja is a fantastic student, and a superb worker. She has been a student in three of my courses, and she has excelled in every one. I was particularly impressed that she took the initiative to read the texts for the Masters of Literature course in Swedish even though the rest of the students were reading the English translations. I am thrilled that she is going to Sweden next year to pursue a graduate degree in Scandinavian studies at Uppsala Universitet! I am confident that Maja will go on to do great things."