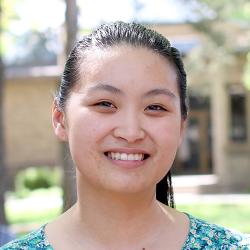 More Than I Imagined
Seniors reflect on accomplishments and look ahead
Madelyn McGraw
Graduation year: 2023
High school: Westminster High School
Hometown: Carpentersville, Ill.
Majors: Asian studies, mathematics
Minors: Japanese, linguistics
Activities: Augustana Symphony Orchestra, UNYK Dance Troupe and E- board, Japanese Table, peer subject tutor, Japanese Circle, former Symphonic Band and Concert Band member
Post-grad plans: I am taking a gap year, spending time with my mom while figuring out my career plans.
Why Augustana?
I wanted a place close to home, and it had the best financial aid.
Are you where you thought you'd be when you first came to campus?
Not at all. My original plans for my major was biochemical engineering. Not sure what the "correct" choice was, but I have enjoyed my journey and wouldn't change it.
Who helped you get to where you are now?
So many people have contributed to my journey. Of course my mom, who has always supported me and nurtured me, who I could always call when I was stressed or overwhelmed, and made me feel safe and loved.
My Japanese professors, who always encouraged my studies and wanted me to improve. I will be forever grateful to Dr. Mari Nagase for telling me about a Japanese university's online language exchange program. I made friends across the world and in Japan. I gained confidence in my public speaking in English and Japanese, and I had something to look forward to every week during the first year of COVID.
Also my friends who I felt comfortable to share all my thoughts with; it wasn't always smooth, but I definitely learned and grew from knowing you.
Peak experience?
Definitely my study abroad to Japan. My first time flying alone, my first time traveling internationally. I navigated an unfamiliar airport, learned to ask for help, spoke mostly in my non-native language, made new friends, met up with pen pals and old classmates. Ate delicious food, mastered the train system and stayed in a traditional Japanese house. It was so amazing.
What surprised you?
I have talent in music/audio editing. I took a theater stagecraft course in my second year and downloaded the audio software, Audacity, for a project. The following year, my roommate needed a song shortened for a dance performance, and I volunteered to do it since I had the software. Cut to my senior year, I'm the official music editor for UNYK, and everyone loves my results.
How did you use your Augie Choice?
I studied abroad in Japan! With Augie Choice (and some other grants), I was able to afford a study-abroad opportunity in my last year. I was finally able to meet my video pen pals in person, and I made many new international friends, as well as toured around Japan.
What will you miss the most?
Tough question. But I have to say the community. Everyone is friendly and willing to help, give advice or share their experiences. I've made some amazing friends, and we've had each other's backs every day.
I'll also miss the Augie professors who have supported me. I am so grateful when I can talk with them for an hour or so, giving life updates or asking for advice or anything.
Advice for the Class of 2027?
College is about practicing your time management and work-life balance. Your classes teach you skills for jobs, but your social commitments are connections to finding that job and experiencing the world. Find your own balance.
"Madelyn was an outstanding student leader in the Japanese program. As the Japanese Table leader, she organized and led various weekly events every semester, effectively communicating with other students. Madelyn has also been a trusted peer tutor for other Japanese learners. This semester, together with other interested students, she initiated the Japanese Circle and took the presidential responsibility of the new student club. Thank you, Madelyn, for your enormous contribution to our Japanese program! You will be an important leader in any field you go into."