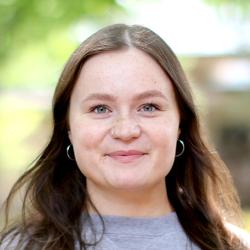 More Than I Imagined
Seniors reflect on accomplishments and look ahead
Madeleine Lange
Graduation year: 2023
High school: Cascade High School
Hometown: Cascade, Iowa
Major: Sociology and anthropology
Minors: Chinese, ethics
Activities: Chi Omega Gamma sorority, Mahjong Club, peer mentor
Post-grad plans: Gap year, then grad school for sociology
Why Augustana?
My dad, older brother and two older sisters went here before me, so I grew up hearing great things about this school, and it was clear Augustana was the first step in their paths to success. I had also visited several times as a kid during family weekends, so I was already familiar with the campus and some of the professors and activities.
As I got older I was drawn to the student-to-professor ratio and the variety offered in Augustana's liberal arts education.
Are you where you thought you'd be when you first came to campus?
It was hard for me to envision my future when I was a freshman because I had no idea who I was or what I wanted to do with my life. After finding my passion in the sociology department, I grew in so many ways and found a strong sense of identity.
Coming to Augustana, I wasn't sure what I wanted to major in. Exploring my interests through the liberal arts helped me figure out where I wanted to go in life.
Who helped you get to where you are now?
I have grown and excelled in so many ways thanks to the community I found in my sorority, Chi Omega Gamma (COG). Joining a sorority was something I had never thought of before coming to Augustana, but it has been one of the best choices I have ever made.
I have also been graced with unconditional support by my amazing family back home who has always pushed me to do my best.
But lastly, I would not be who or where I am today without the support I've received from the faculty in my respective academic departments. I have been able to form amazing relationships with my professors who have encouraged me to pursue goals and dreams I never would have imagined for myself, and they have all given me the confidence and support I needed to learn and grow.
I have come to professors for anything and everything during my four years here and have always been inspired and motivated beyond what I could have expected. I would not be who or where I am today without my professors.
Peak experience?
During my junior year, I formed the Mahjong Club. It was such a fun way to bring new people together. I also loved being able to expand people's horizons and expose more people to the Chinese language program!
I had not previously been as involved on campus, and forming this club gave me opportunities and the confidence to connect with other people and groups at Augustana and beyond. What started as our little game in class with just a few people will now be passed down to many for years to come.
What surprised you?
I was surprised to look back and see how much I had grown without noticing it. When coming to college, everyone feels like they have everything figured out. It can be overwhelming to find out you still have a lot to learn.
But looking back recently, I realized just how much I have learned and grown and how different I am now. I am so proud of my growth through Augie.
What will you miss the most?
I will miss the community. It will be strange to not wake up and see the same friends every day, and I know I will miss the support network I have gained through COG and all of the people in it. I know if I need anything, my friends are just one call or text away. But I will miss just being on campus and seeing each other whenever we feel like it.
Advice for the Class of 2027?
Live your college life like you're graduating soon. Say yes to the hangouts, the study sessions and the scary new things your friends ask you to do because those will be your best memories. Take advantage of these opportunities before they're gone! And avoid the Olin stairs at all costs.
"Maddie is the third one of three talented sisters whom I have taught over the years. I enjoyed having her in my classes and especially appreciated her effort in establishing the Chinese Mahjong Club. She demonstrates excellent leadership and enthusiasm in Chinese culture."