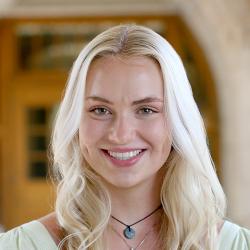 More Than I Imagined
Seniors reflect on accomplishments and look ahead
Linnea Tabaka
Graduation year: 2023
High school: Monroe High School
Hometown: Monroe, Wis.
Majors: Communication sciences and disorders (CSD), Spanish for professional use
Minor: Art
Activities: Chi Alpha Pi sorority, Augustana Symphonic Band, Augustana Student Speech-Language-Hearing Association, Campus Ministries Leadership Team,  Mortar Board honor society, Omicron Delta Kappa honor society, Aphasia Support Group, Parkinson's Support Group
Internship: Student clinician at Augustana's Roseman Center for Speech, Language, and Hearing
Post-grad plans: Attend East Tennessee State University for my master's in speech-language pathology
Why Augustana?
I knew I wanted to be in a place where I could do everything. At Augustana I didn't have to choose between academics, music, art and my faith.
Augustana also was a place I knew would provide me with opportunities to explore and find my passions and interests. I was even able to take courses in the Scandinavian studies department apart from the requirements for my majors just because it was enjoyable and of interest to me.
Are you where you thought you'd be when you first came to campus?
I do not think freshman-me would recognize who I am now. Much growth in all areas of my life has taken place during the last four years. Academic studies and leadership positions in numerous campus organizations have helped me develop confidence, critical thinking skills and passion in what I do.
Who helped you get to where you are now?
Dr. Jakielski, Dr. Haskill and other faculty in the CSD department have been mentors to me throughout my entire time at Augie and especially during the grad school application and decision process. They truly care about the well-being of their students outside of the classroom and are intentional in fostering personal relationships with their students.
Pastor Pupillo has been an important support to me on campus. She has a gift for affirming each student she encounters and works to make Campus Ministries a place where everyone feels welcome. I can always count on her to support me in my faith journey.
Dr. Lambrecht has seen me almost every day for all of my four years here. He has not only shaped my musical ability but also taught me life skills and supported me through personal growth. Maybe most importantly, he constantly reminds me to be proud of my Wisconsin roots!
Dr. Safstrom in Scandinavian studies has been a role model to me and pushed me to be the best version of myself in and out of the classroom.
Peak experience?
My peak experiences have been my study abroad programs. I traveled to Cambodia for a J-term program. The opportunities to live in the jungle at an elephant sanctuary and teach English in a Cambodian school were unforgettable.
In addition to my coursework in the Ecuador Summer program, I enjoyed cultural excursions around Ecuador and lived with a host family for five weeks!
I toured with the Augustana Symphonic Band to Japan in a unique and amazing chance to experience yet another culture.
What surprised you?
I was actually able to complete two majors along with a minor — while also being a member of the Augustana Symphonic Band for all four years, participating in other extracurriculars and taking some courses just for fun, too!
The structure and support from the faculty members are incredibly essential to students being able to do it all.
How did you use your Augie Choice?
I used my Augie Choice for my first international program in Ecuador for the Summer in the Andes session. I received other funds for this trip from the World Languages Department, Passport Grant and the Freistat Grant program. This funding for this summer program allowed me to go to Cambodia, too.
What will you miss the most?
I will miss the Augustana community. Everyone is connected to everyone else, and you have a friend in everything. I made different connections in my classes, study abroad experiences, Greek life, service events and at the gym.
Even in my senior year, I am still making connections with new people, and I will cherish these friendships that Augie has given me.
Advice for the Class of 2027?
Augustana is a very close-knit community, and everyone knows everyone. Use this transition time to become the person you want to be. Starting a new chapter means you can put a new face forward. Get involved in everything you want to, try new things, make connections and be a friend to everyone!
"Linnea has taken full advantage of her liberal arts environment at Augie. She excels in music, academics, service and leadership! Linnea undoubtedly will thrive in graduate school and beyond."