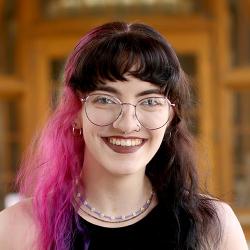 More Than I Imagined
Seniors reflect on accomplishments and look ahead
Lindsey Edwards
Graduation year: 2023
High school: Kewanee High School
Hometown: Kewanee, Ill.
Majors: Biology (pre-veterinary medicine), theatre arts
Minor: Chemistry
Activities: Dance Company
Internship: Augustana's Texas Medical Center Student Research Internship Program
Post-grad plans: I will attend the University of Illinois College of Veterinary Medicine in pursuit of my Doctorate of Veterinary Medicine.
Why Augustana?
I knew when I first stepped foot on campus that Augie was the place for me. This became especially evident during the summer after my freshman year; I was enrolled in Dr. Dara Wegman-Geedey's virology course.
We were meeting via Google Meets due to the pandemic, but I would stay on the call after class to talk to Dr. Dara. We talked about a variety of things, but she informed me of the Texas Medical Center internship. She is a major reason why I have been successful in my undergrad experience.
Are you where you thought you'd be when you first came to campus?
Academically, I am not where I thought I would be, but I am where I had hoped I would be. I dreamed of being accepted into vet school right out of undergrad, but I knew the competition was intense. Personally, I had no idea where I thought I would be, but I am very proud of the person I have become.
I have faced a lot of struggles during my time at Augie, but I have grown from the hardships, and I believe I am leaving this campus as a better person than I was when I started here.
Who helped you get to where you are now?
Dr. Dara has definitely been a major source of support during my time at Augie. Not only did she tell me about an internship program that changed my life, but she has also taught me how to take an exam effectively, and she has supported me through some very difficult times (not to mention she has taught me so much about biology).
I would also say my mentor from the Texas Medical Center internship, Dr. Katherine Brannick, was a major influence on my life during my time at Augie. I spent last summer with her conducting an original research project and experiencing what life is like for a lab animal veterinarian. She helped me in so many ways; I simply cannot thank her enough.
Finally, my family has been and always will be my biggest cheerleaders and number one fans — whether they are wishing me luck on an exam or watching me at a dance company show. Without them I would be completely lost. Their guidance and acceptance of me has allowed me to grow into the person I am today.
Peak experience?
My best experience was the Texas Medical Center Student Research Internship Program. This program allowed me to discover more about the career I am pursuing, gain experience in a new field of veterinary medicine, conduct an original research project, and present that research at a regional conference. This program was a life-changing experience that has prepared me for the next step in my journey to become a veterinarian.
What surprised you?
I was surprised by how important obtaining a liberal arts education became to me. Because I chose Augie, I feel like I am leaving undergrad as a very well-rounded individual. I think this experience has enhanced my problem solving skills and will allow me to look at a situation from multiple perspectives.
How did you use your Augie Choice?
I used my Augie Choice on the Texas Medical Center Student Research Internship Program.
What will you miss the most?
I will definitely miss Dance Company the most. Dance Company is the first group I joined on campus and has been my second family ever since. These people were like my home away from home. I have valued the creative outlet as well as the physical and mental benefits of dancing with people I care about deeply.
Honestly, I am not sure what I will do without the Dance Company, but I am incredibly grateful for the time I have had with the group. I'll definitely be back to watch the shows in the future!
Advice for the Class of 2027?
Don't be afraid to ask for help! I struggled with my mental health throughout my time at Augie. It wasn't until my senior year that I realized I could ask for help. Once I finally did, I was able to achieve my goals and feel more confident about my schoolwork (and myself).
"I met Lindsey during the height of the pandemic as a student in my June 2020 online virology course, and she's also completed my immunology and microbiology courses this past year. Lindsey is a thoughtful, inquisitive student who stopped by my office every so often to discuss ideas that were usually connected to concepts in class, but always connected to bigger issues about society and ethics. I'll miss our chats, but I am certain that Lindsey will continue asking questions that help advance our understanding of issues affecting animal, environmental, and human health throughout her career in veterinary medicine."