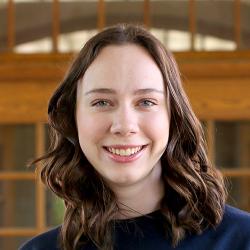 More Than I Imagined
Seniors reflect on accomplishments and look ahead
Kylie Jozwik
Graduation year: 2023
High school: Lakes Community High School
Hometown: Lindenhurst, Ill.
Major: Biology
Minors: Chemistry, communication studies
Activities: Varsity women's basketball, biology tutor, Chi Alpha Pi sorority
Internships: Sumer Microbiology Lab internship at Baxter International Inc. in 2021; Baylor College of Medicines SMART undergraduate research program through Augustana's Texas Medical Center Research Program in 2022
Post-grad plans: I will be attending Vanderbilt University to pursue a Ph.D. in biological sciences.
Why Augustana?
I chose Augustana because it was the perfect distance from home, had a good biology program and was affordable for me and my family.
Are you where you thought you'd be when you first came to campus?
I thought I would be somewhere in the medical field; however that changed over my time here. After meeting with my pre-med club advisor, I realized that the medical field was not for me. I then fell in love with the lab during my internship at Baxter and also at Baylor College of Medicine's SMART program.
Now I am headed to Vanderbilt to get my PhD in biological sciences so I can do research full-time.
Who helped you get to where you are now?
Dr. Larson has been my #1 supporter and mentor since I stepped foot on campus. He always asked what I was doing outside of my classwork to become a better applicant for medical school and provided resources for me to do so.
After I decided to change my career path to research, he provided knowledge and advice that helped me get accepted to my top graduate school choices. I would not be in the position I am today without his continued advising and support.
Peak experience?
I had the opportunity to play basketball and tour around Greece the summer after my junior year. It was by far the best experience I have had at Augustana. It was my first time in Europe, and I got to experience a new culture and history and make lasting friendships with the teams we played.
What surprised you?
I was surprised to feel so much belonging to a place so far from home. The transition to college is difficult, but by the end of my senior year, I can say that I have made so many connections and relationships with peers and faculty that I know will be maintained even after I graduate.
How did you use your Augie Choice?
I used my Augie Choice to pay my living expenses when I lived in Texas over the summer of 2022 to do pediatric cancer research at Baylor College of Medicine.
What will you miss the most?
I will miss living with and near my closest friends the most.
Advice for the Class of 2027?
Take advantage of every opportunity you are given to experience something different, whether it be a club, a conference, a culture, an internship or a scholarship. Doing so will help you succeed in your vocational exploration.
"Watching Kylie's unwavering love for biology flourish during her time at Augustana has been an absolute delight. She's introspective and astute about how her academic studies, research and personal experiences have molded her into the person she is today. You can see her eyes light up whenever she talks about her passions. It's clear that she truly loves what she's studying. Kylie's hard-working and dedicated nature will no doubt help her thrive as a researcher. I'm excited to see where her graduate studies take her and have every confidence that she will achieve remarkable things."