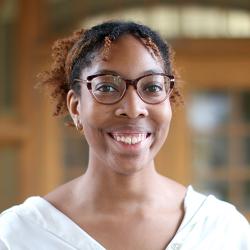 More Than I Imagined
Seniors reflect on accomplishments and look ahead
Kira Banks
Graduation year: 2023
High school: Robert Lindblom Math and Science Academy
Hometown: Chicago
Majors: Public health, Classics, biology
Activities: PACE Multicultural Mentorship Program, Ladies of Vital Essence, Black Student Union, Latinx Unidos
Internships: MapsCorps; Gift of Hope Organ and Tissue Donor Network
Post-grad plans: Work for a year, apply for a Fullbright exchange program, pursue a master's in public health
Why Augustana?
In high school, I found a passion for public health through an internship I did with the Mikva Challenge foundation. I was first drawn to Augustana when I learned it had a robust public health program. I was further drawn to the school when I learned that it offered small class sizes because I learn best when I know who my professors are.
I attended and won the public health scholarship competition and fell in love with the campus. When I came for an overnight visit, I knew Augie was for me.
Are you where you thought you'd be when you first came to campus?
Not at all. When I started at Augustana, I only planned to be a biology and public health major. However, after taking Classics in Film with Dr. Day for J-term during my freshman year, I added the Classics minor and later had the space to become a Classics major.
Who helped you get to where you are now?
My parents have always been so supportive of me. They are always my biggest allies and help me navigate life's challenges. On days that I question my capabilities, they are always there to motivate me.
My Classics advisor Dr. Day made my Classics major a reality despite my initial disbelief. My biology-public health advisor Dr. Wegman-Geedey not only taught me a lot about microbiology and Immunology, but she also helped me learn about myself as a learner.
My public health Senior Inquiry advisor Dr. Hann helped me learn how to balance hard and meaningful work with wellness as well as prepare me for the professional world.
The Office of Student Inclusion and Diversity (OSID) helped me create a community when I first came to Augustana. Navigating spaces where I was the only person of color in the room was daunting — especially being from Hyde Park Chicago. OSID gave me a safe space on campus. My upperclassmen friends helped me get to where I am, and it's really inspiring to keep in touch and see everything they are up to.
Peak experience?
Traveling to Greece in the summer of 2022 with the Classics department. We spent the spring learning about ancient Greek architecture, and in the summer we traveled all over mainland Greece and some islands to see them in real life.
This trip reignited my love for travel as it was my first international trip since COVID. It was also really cool to physically go to the places we talk about so often in Classics.
What surprised you?
My capabilities. I came to Augustana as a strong student, but I was not confident that I could do all that I can now. My time here allowed me to push myself by having three majors, working on community service projects, and having two paid internships. My 2019 self would have never thought any of this possible.
How did you use your Augie Choice?
I used my Augie Choice for my trip to Greece.
What will you miss the most?
I'll miss the beauty of the campus. When I first visited, I fell in love with the Slough path. As a Chicagoan, I don't have as much access to green spaces. Throughout my time here, I have enjoyed taking walks around campus and sitting outside to do homework or read a book. Spring and fall are in my opinion the most beautiful times on campus.
Advice for the Class of 2027?
Be kind to yourself. Life in college gets busy and things get overwhelming. Some days it will take everything just to get out of bed. Give yourself as much kindness and celebration on those days as you would on highly productive days. You are you every day, and that is celebration enough.
"Kira is making the most of her time at Augustana by pursuing majors in the social sciences, the hard sciences, and the humanities. She has a sophisticated understanding of how studying a field like Classics contributes to her career interests by training her to think critically in ways that are unavailable when studying STEM fields alone. Kira's tripartite approach to obtaining a well-rounded education will undoubtedly help her become the best public health professional she can be. Kira is on course to making a difference."