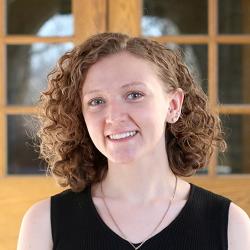 More Than I Imagined
Seniors reflect on accomplishments and look ahead
Kathryn Benshish
Graduation year: 2023
High school: St. Charles North High School
Hometown: South Elgin, Ill.
Majors: Psychology; sociology and anthropology (SOAN)
Minor: English
Activities: Psi Chi psychology honor society
Internships: Shadowing a school counselor at Bettendorf High School and interning at GiGi's Playhouse last summer
Post-grad plans: I will be going for my Master of Social Work with a concentration in school social work at Loyola University Chicago in the fall.
Why Augustana?
I loved how personable Augie was during the few visits I did and what I got in the mail. I also enjoyed how tight-knit the community at Augie is. From the different Augie alumni I have known at home, people seem to really love the community at Augustana and have a lot of love and pride for it after they graduate, which I saw as a great sign!
Are you where you thought you'd be when you first came to campus?
Not at all! I came in initially toying with the idea of being an elementary ed major. Then that changed to wanting to be a school psychologist or counselor. Everything changed after taking more classes for my sociology and anthropology minor. I loved these classes so much and really enjoyed the social justice approach that I decided to declare a SOAN major late in the spring of my junior year! Paired with the internships I did, I learned that I wanted to be involved in social work.
Who helped you get to where you are now?
My family and my boyfriend have been so loving and supportive through all of my ups and downs over these four years, and I am so grateful for them!
I have two really amazing advisors for my majors, Dr. Lorenz and Dr. Croll. They have helped me so much throughout my time at Augie, and have been so supportive. Another professor that I owe a lot to is Dr. Williamson in the psychology department. From giving me the opportunity to be his PA on and off the past two years to help with the internships I have done, his support has been instrumental to the amazing experiences I have had at Augie.
The psychology department in general has opened the way for so many opportunities. They chose me as one of their recipients for a grant last summer that allowed me to put all of my energy into my internship at GiGi's Playhouse, which was completely life-changing for me (as cheesy as it sounds).
All of these people have helped me grow so much as a person, and I am so grateful for them!
Peak experience?
Definitely the opportunity the psychology department gave me through the grant I received to do my internship at GiGi's Playhouse last summer. My time there was one of the most meaningful experiences I have had.
What surprised you?
I was surprised by how incredibly personable all of the professors I have had at Augie are. I truly have enjoyed my time in each of my classes because of how much the professors showed that they cared for students and their thoughts, especially through an ongoing pandemic.
What will you miss the most?
I will definitely miss the beautiful campus, and taking walks on the Slough path! I will also miss so much the community at Augie and all the meaningful connections I have made in the Quad Cities.
Advice for the Class of 2027?
Use the supports at Augie! I initially thought I could do everything on my own, but between all of the different supports, like professors, advisors and CORE, I do not think I could have navigated the last four years and the transition to graduate school without them.
"Kathryn makes every class better, every single day. She has a positive energy that improves the space around her wherever she goes. Kathryn is kind and supportive and is always ready to learn, discuss, work and grow both as a student and as a person. It has been a joy to watch her develop in her years at Augustana. Her senior capstone project brings together all aspects of her time at Augustana, both in and out of the classroom. Her project embodies what we hope every student is able to do as they finish their time here. I cannot wait to see what Kathryn does next!"