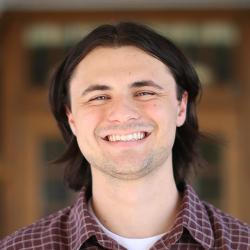 More Than I Imagined
Seniors reflect on accomplishments and look ahead
Justin Vollmuth
Graduation year: 2023
High school: Romeoville High School
Hometown: Romeoville, Ill.
Major: Mathematics for secondary education
Activities: POST Scholar
Internship: Student teaching at Rock Island High School
Post-grad plans: Teach math at Mesa Ridge High School in Colorado Springs, Colo.
Why Augustana?
After sudden financial issues, Augie worked hard to help me have the most accurate aid package. My admissions counselor regularly reached out to me and even remembered me the day of my first visit. I felt like there would be a support system for me at Augie that I would not receive anywhere else, and this was absolutely true.
Also, it's hard not to fall in love with the campus during your first visit!
Are you where you thought you'd be when you first came to campus?
Absolutely not. There aren't words for me to describe the amount of maturing and personal growth that I've experienced in the last four years.
Who helped you get to where you are now?
I would not be the person I am today without the help of every person within my support network.
Academically, my professors challenged me in ways that not only prepared me for my career but also drastically expanded my worldview. The high expectations set by them helped me develop a love of learning that I will have for the rest of my life.
My peers in both the education and mathematics departments have also had a profound impact on who I am today. Especially when I was a freshman and sophomore, many of the upperclassmen were role models to me and always motivated me to do more. I am immensely grateful for the small moments I've shared with them like deep conversations after class, walks on the Quad and late-night study sessions.
Lastly, my parents and my younger brother Joshua have always cheered me on. Being a first-generation college student was challenging but knowing I always had them in my corner reassured me that college was for me.
Peak experience?
I can confidently speak for all of the education majors when I say that the peak experience for us is student teaching. I student-taught at Rock Island High School, and it was amazing to finally be in the classroom after three years of preparation.
I never expected to enjoy teaching this much and am eager to make a career out of it. I'm fortunate to have had a great cooperating teacher who provided me with a comfortable environment to strengthen my skills as an educator.
What surprised you?
What surprised me the most is how much I enjoyed the small school feel. Knowing your peers and actually having professors teach you are irreplaceable.
How did you use your Augie Choice?
I used Augie Choice for student teaching.
What will you miss the most?
I think I am going to miss the Quad Cities community the most. My junior year, I decided to get more involved outside of Augie, and it made me realize just how strong the community here is. People really care about each other here, and that was drastically different from my life back in the suburbs of Chicago.
The QC has truly been my home the past four years. I will miss it.
Advice for the Class of 2027?
College is hard but so rewarding. Set goals for yourself every day. Take walks when you get stressed. Be open to change. Journal. You got this!
"Justin has a well-formed sense of wonder that will serve him well in his future work as a teacher. He seeks learning without a need for direction from others (through independent reading, extensive travel, etc.). Most importantly though, he exhibits a sense of wonder about every person he meets. He shows genuine interest in the thoughts and perspectives of others, likely because he recognizes that each person can serve as a teacher to him. These propensities will enable him to create a classroom environment where every student will feel valued and seen by their teacher, and every student will be encouraged to pursue learning with a similar sense of wonder as their teacher."