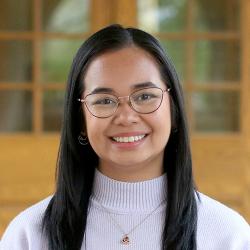 More Than I Imagined
Seniors reflect on accomplishments and look ahead
Joyce Matanguihan
Graduation year: 2023
High school: Loyola Academy
Hometown: Skokie, Ill.
Major: Elementary education
Activities: Augustana Symphony Orchestra, Asian Student Organization (ASO), Augie NAMI, Chi Omega Gamma sorority, Filipino Student Organization, Golden Apple Scholar, PACE Multicultural Program, Senior Class Gift Planning Committee, UNYK Multicultural Dance Troupe
Internships: Student teacher for second grade at Denkmann Elementary School in Rock Island, Ill.
Post-grad plans: Becoming a full-time teacher in Illinois as a Golden Apple Scholar
Why Augustana?
I chose Augie because I knew that I wanted a small college that was just the right distance away from home where I could easily visit every so often. I had visited Augie twice before deciding that it was the place for me.
The second time I visited was for an admissions event called It Begins With A and that was what really solidified my gut feeling of wanting to come here. It was such a nice day out, the campus looked so beautiful, and everyone I met was so welcoming and kind — truly a community.
Are you where you thought you'd be when you first came to campus?
Most definitely not. I have grown so much throughout my time at Augustana in more ways than one. I had begun to become a little bit more involved in high school, but I never thought that I would take on so many leadership opportunities through my extracurriculars here and love them all.
Augie has truly fueled all my passions by allowing me to explore the things that I am even the slightest bit interested in and empowered me to use my voice even if I am still a little bit shy.
Who helped you get to where you are now?
My family, both near and overseas in the Philippines, has been my number one supporter. They have always showered me with unconditional love and support in everything that I do. I would not be where I am now without them.
My friends from back home and the ones that I have made at Augustana have also helped me. I have met so many amazing people here and have formed tons of lifelong connections through my many extracurriculars/programs and even just randomly since everyone is just so friendly. 
They have created a safe space for me to be myself and share my thoughts/experiences with no judgment.
The last group of people is the faculty/staff at Augie. There are so many wonderful people that I can't even name them all, but the Office of Student Inclusion and Diversity, the Office of International Student and Scholar Services, the education department, the advisors of the Asian Student Organization (ASO), admissions, and everyone else I have met along the way. They have given me invaluable advice and taught me so much.
Peak experience?
My peak experience would have to be when I became president of ASO. This group was one of the first I joined at Augie and quickly became my home away from home. When I became president, I was elated that I was able to create this same experience for others and build upon that by sharing our culture with the Augustana community post-COVID.
We were able to bring back traditional events and create new ones like a dinner where Asian-identifying students, faculty and staff got to meet and connect!
What surprised you?
What surprised me was how fast time flew… granted that at the start of my college journey, we got hit with a pandemic, but still — time truly does fly by when you are having fun. I never thought that I would have accomplished so much and be able to be so involved. I usually come off as very reserved, but I have truly learned to own who I am and what I'm passionate about.
How did you use your Augie Choice?
I used my Augie Choice for a J-term trip to Jamaica. We took a course in the fall where we learned about the country and schools. Once we arrived, we were able to immerse ourselves in the culture and use what we learned. I'll never forget the kids I taught there and all the incredible people we met.
What will you miss the most?
I will miss the people and the community the most. I made myself a little home at Augie, and even the outside QC community, through all the people I've interacted with/met. Everyone here is so loved and cherished.
Advice for the Class of 2027?
I'm sure this gets said time and time again, but take advantage of all that comes your way. I don't want to say YOLO, but you really do only have so much time to experience college. Connect with people, try new things and find yourself -- but also protect your peace and set boundaries!
"I worked with Joyce over the past three years as her professor for three classes and as her college supervisor during a clinical field experience and student teaching. Throughout my observations of her teaching, Joyce demonstrated incredible potential as an educator and will bring a wide range of talents to the profession. Her child-centered interactions with students were calm and direct while creating a safe, positive and supportive environment that maximized student learning. Joyce holds high expectations for herself and will be a wonderful ambassador for Augie. Thank you for coming to Augie!"