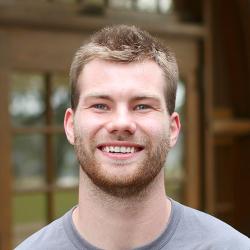 More Than I Imagined
Seniors reflect on accomplishments and look ahead
Josh Van Essen
Graduation year: 2023
High school: Taft High School
Hometown: Chicago
Majors: Applied mathematics, psychology
Minor: Computer science
Activities: Varsity men's volleyball, OSL Sloughfest, Delta Chi Theta sorority sweetheart
Internship: SENB Bank
Post-grad plans: Looking into data analytics and finance positions
Why Augustana?
I chose Augustana for the small school vibe and tight-knit community. Every professor I've had has known me personally and has been invested in my success, and I can't walk around campus without seeing a familiar face.
Are you where you thought you'd be when you first came to campus?
When I came to campus, I came with a open mind for what my future held. That being said, I don't think freshmen-year-me would have predicted being on the varsity volleyball team or leading a group of individuals in OSL [Office of Student Life].
Who helped you get to where you are now?
I'm most thankful to my professors Dr. Sward and Dr. Lorenz for their help in achieving my academic goals, my coach Mike Ducey for helping me grow as an athlete and hard worker, and my friends and family for always supporting me and helping me through tough times.
Peak experience?
My peak experience was going to the Dominican Republic with my volleyball team. Not only was I able to play my sport in another country, but I got opportunities to bond with my teammates and have fun with some of my favorite people.
What surprised you?
I was surprised by how easy it was to make friends here. Within hours of being on campus, I had already met one of my senior-year roommates.
How did you use your Augie Choice?
I used my Augie Choice to go on a trip with my volleyball team to the Dominican Republic.
What will you miss the most?
I'm going to miss all the friends I've made while I've been here and being able to see them every day. I'm going to miss being a part of such a close-knit community.
Advice for the Class of 2027?
Don't ignore Wild Thymes; they have the best food sometimes.
"Josh is a prime example of a high achiever in all the things he did at Augustana. He mastered the skills of goal-setting, growth and achieving all he set out to do in his time on campus and with men's volleyball. Josh was looked up to by his teammates as someone who was a top performer on the court and in the classroom, while also enjoying other social aspects Augustana had to offer. His positive example and impact during his time with our team will be felt for years to come. I am very excited to watch Josh move forward and continue to excel in all he does post-graduation. The future looks very bright for Josh."