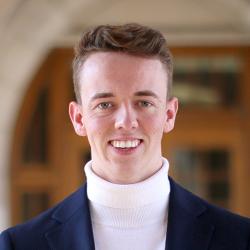 More Than I Imagined
Seniors reflect on accomplishments and look ahead
Joseph McCoy
Graduation year: 2023
High school: Oak Park and River Forest High School
Hometown: Oak Park, Ill.
Major: Multimedia journalism and mass communication (MJMC)
Minor: Economics
Activities: WAUG Radio, intramural sports, Augustana athletics play-by-play announcer, CA (community advisor)
Internships: WVIK Quad Cities NPR station; WQAD News 8
Post-grad plans: Work as a reporter for WQAD News 8
Why Augustana?
Augustana fit the mold of a small liberal arts school that I was looking for. I wanted to be at a place where I could build close relationships with faculty and get one-on-one help if needed. The campus being so beautiful was also a big plus! What struck me during my visits was the diversity that's on campus, and that was an environment that I wanted to be in.
Are you where you thought you'd be when you first came to campus?
Yes and no. I came into college thinking I was going to go a finance/business route, but after freshman year I knew that journalism was what I wanted to do for my career. I am very happy that I got an economics minor because it greatly helps me understand how the economy works, and I use that knowledge in a lot of my stories.
I have become the person I wanted to be at Augustana, and I found what I am passionate about in life, which is journalism, so I can't ask for more than that.
Who helped you get to where you are now?
A few members of the faculty here were instrumental in my success at Augie. Dr. Schwartz, Dr. and Mrs. Marmé, Pedro Bidegaray and Dr. Joanna Short were the five faculty members that I went to the most — not just for class help, but for life advice.
Dr. Schwartz was the first professor I met in the MJMC program, and after taking his J-term class freshman year, I knew that journalism was what I wanted to major in. He also helped me get the internships I had while at Augie.
My family and friends were also critical in getting me to where I am know. I talk with my parents and siblings almost every day, and they always were there to give me wisdom when I was having a tough day.
Peak experience?
Studying abroad in Greece for a semester was by far my peak experience in college. For anyone questioning whether to study abroad, please do it! It is the greatest four months you will have, and you will grow so much as an individual.
I met the most incredible people and friends while in Greece, and I saw the most beautiful places you could see. No offense to Rock Island or the Quad Cities, but the islands of Greece are a little bit better.
What surprised you?
I was surprised by how many different opportunities I was presented with. Even though Augie is a small school, you have the opportunity to do so many incredible things; you just have to be willing to seek them out. I was able to get an amazing internship at the local TV station, and now I am working full-time there as a reporter.
How did you use your Augie Choice?
I studied abroad in Greece for four months.
What will you miss the most?
I will miss the faculty the most. They truly will do whatever they can to see you succeed and are tremendous resources. I have developed close relationships with my professors and will continue to stay in touch years after I graduate.
Advice for the Class of 2027?
Don't be afraid to ask for help. Go to the counseling offices, teachers, other faculty, etc., and be vulnerable. Also, college will be whatever you make it. Nothing will be handed to you. If you want an internship or opportunity, you gotta make it happen.
"Joe repeatedly has shown what happens when ambition meets effort. By his junior year, a local station had hired him to broadcast high school football, and a year later, before he'd even graduated, another had hired him full time as on-air talent. None of it surprised me: I often woke up to emails from Joe asking me to critique his work. It wasn't even schoolwork — it was something he had done outside of class on his own, just to get better."