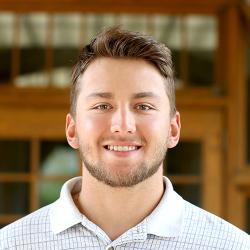 More Than I Imagined
Seniors reflect on accomplishments and look ahead
Joe Marcucci
Graduation year: 2023
High school: Rolling Meadows High School
Hometown: Arlington Heights, Ill.
Majors: Political science, economics
Minor: Communication studies
Activities: Varsity baseball, Honor Council, Pre-Law Association, Political Science Student Advisory Council
Post-grad plans: I plan to attend the University of North Carolina School of Law in the fall of 2023.
Why Augustana?
I chose Augustana for its commitment to support my aspirations of being a student-athlete in college. After visiting the college and meeting with current students, I felt a uniquely strong sense of community. I wanted a college experience that produced quality connections both in and out of the classroom.
That opportunity to connect with the Augustana community led to strong relationships with my teammates, classmates and professors — proving invaluable in reaching my goals.
Are you where you thought you'd be when you first came to campus?
I always had a strong sense of purpose and direction for my future. Augustana helped to reaffirm my goals and direct my education to meet and exceed those original plans. I am thankful for how well Augustana has prepared me for my future endeavors.
Who helped you get to where you are now?
The relationships I built with my teammates and professors are a strong reason for where I am at today. My teammates helped me to sharpen my pursuit of perfection. We push each other to exceed expectations in practice. This commitment to quality over quantity taught me the value of taking pride in my craft. I found these skills to be extremely translatable off the field.
I also believe my professors proved to be heavily influential in helping me get to where I am today. Faculty at Augustana truly care about their students. I found professors to be extremely accommodating and committed to helping me succeed. From extending office hours to checking in over the summer to see how I'm doing, the care my professors showed over my four years here has been wildly motivating.
Peak experience?
My peak experience was finding out I was admitted to my top law school choice during class. I remember the feeling of pride I felt, recollections throughout my four years here rushed through my head. That moment felt like the culmination of my time here at Augie. I don't think I will ever forget that feeling. It's amazing to see that hard work pay off.
What surprised you?
I was surprised with how at home I felt at Augie. As a high school senior I felt college was simply going to be a stepping stone. A place I'd spend four years at and then leave. Augie proved to be much more than that. The relationships I have built on this campus will be a part of me forever, making this college a part of me forever as well.
What will you miss the most?
I will miss walking through the Quad and seeing familiar faces everywhere. It's almost impossible to go throughout the day without seeing someone you know. That sense of community will be missed.
Advice for the Class of 2027?
Trust your gut. The only certainty in life is uncertainty. Embrace that feeling of not knowing exactly who you are and who you want to be. No one grows where they feel safe. It's only when we put ourselves out there that we find growth.
"It has truly been a privilege being Joe's professor. He's the sort of person who — both in the classroom and on the field — clearly understands the relationship between effort and results. This coming fall, Joe starts out on the next part of his journey at UNC law school. On behalf of the entire department, I wish Joe all the very best."