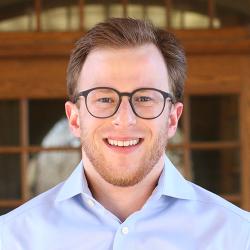 More Than I Imagined
Seniors reflect on accomplishments and look ahead
Jared Reiling
Graduation year: 2023
High school: Crystal Lake South High School
Hometown: Crystal Lake, Ill.
Majors: Mathematics, music – piano performance
Minor: Computer science
Activities: Augustana Symphonic Band, Campus Ministries
Internships: Texas Medical Center Research Internship Program, Augustana Beling Mathematics Research student
Post-grad plans: Pursuing a PhD in computational mathematics, science and engineering at Michigan State University
Why Augustana?
Augustana gave me the opportunity to pursue majors in completely different subjects: mathematics and piano performance. Studying two vastly different subjects may seem impossible at a large university, yet Augustana welcomes students to explore their passions in the spirit of the liberal arts education.
From my first interaction with students and faculty to my spring semester of senior year, I knew Augustana would make this dream possible.
Are you where you thought you'd be when you first came to campus?
Far from it! When I arrived at Augustana, I wanted to double major in physics and music. Through my math/computer science classes and internship at the Texas Medical Center, I found my passion for using computational sciences within the biomedical sciences. This wonderful experience changed my career and graduate school direction.
Even though music stayed constant, my Augustana experience showed me the opportunity of how math and computer science are the future of biomedical research.
Who helped you get to where you are now?
I could not have gotten to this point without the support of my professors, friends, family and mentors.
My mathematics advisor, Jon Clauss, helped shape my mathematical thinking and provided endless opportunities for me to succeed. His mentorship fueled my love for learning and inspired me to continue my education by pursuing a PhD.
My music professors, including Rob Elfline and James "Doc" Lambrecht, always encouraged me in my music study and were always there to support me in my Augustana experience. I'm grateful for their commitment, passion for teaching, and care for their students.
My friends and peers made my Augie experience exciting and fun. From winning cash prizes in bingo to studying for final exams, my friends and I supported each other and provided encouragement along the way.
Lastly, my family was my biggest source of support. I am so thankful for the support from my parents and grandparents through every step of my time at Augustana.
Peak experience?
My peak Augustana experience was definitely interning at the Texas Medical Center in Houston, Texas. The Texas Medical Center experience changed my direction for graduate school studies to pursue a confluence of math, computer science, data science and neuroscience.
This internship showed me that math and computer science students have the ability to propel the health sciences forward with life-saving research! I cannot express how grateful I am for this wonderful opportunity.
What surprised you?
My biggest surprise again stems from my internship at the Texas Medical Center. I was surprised by how far my liberal arts education carried me in this internship. My effective presenting, writing and adaptability skills allowed me to thrive in Texas, and I owe these skills to my Augustana education.
How did you use your Augie Choice?
I spent my Augie Choice on a trip to Holden Village: a mountain village nestled in the Cascade mountains. Augustana offers the opportunity students to travel to this wonderful village for a J-term religion class. I can wholeheartedly say that I grew in mind, body and spirit in Holden: a life-changing experience.
What will you miss the most?
I will definitely miss the people and culture of Augie the most. I loved the close connection with students and faculty in all different disciplines. My best friends are perfect examples. From piano performance to pre-medicine to chemistry to history, my friends and I embraced the liberal arts. In addition to my friends, I've become close with my professors, and they helped me tremendously in my undergraduate journey.
Advice for the Class of 2027?
Always keep an open heart and mind. As a physics and music first-year student, I could not dream of the ways Augustana guided me to where I am now. Embracing the liberal arts education opens doors that will forever change your life direction in the most positive and impactful way.
"Jared is one of truly rare students — talented, hard-working, enthusiastic, humble — but most of all he is grounded by a secure sense of himself, his values and his purpose in life. Or, to put it another way, he lives out the mission of Augustana College every single day both in and out of the classroom."