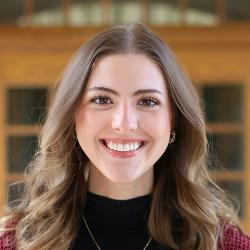 More Than I Imagined
Seniors reflect on accomplishments and look ahead
Isabelle Jordan
Graduation year: 2023
High school: Lake Zurich High School
Hometown: Lake Zurich, Ill.
Major: English education
Minor: Middle school language arts
Activities: Student Government Association (SGA), Homecoming Week, Delta Chi Theta sorority, peer mentor
Internship: Student teaching at Edison Jr. High in Rock Island
Post-grad plans: I will be teaching English at a middle school or high school, and I am excited to look into higher education programs as well!
Why Augustana?
When I first mentioned I was considering Augustana, anyone I knew who went there would just beam about how much they loved it. I was shocked at the amount of joy and pride alums had when talking about their experience at Augustana.
What really sold me, however, was the promise of diverse perspectives and cultures I would be surrounded by and get to learn from. The emphasis on global awareness is something so needed in the world today, and it was introduced to me at Augustana.
Are you where you thought you'd be when you first came to campus?
Absolutely, positively, NOT. When I was at my freshman convocation, I remember sitting and listening to the SGA president give their speech at the time, and I just thought, "I can never imagine being in that position."
Sure enough, I was the SGA president to give the speech at this year's freshman convocation, and what makes me smile is knowing that there was someone in that crowd probably thinking the same thing, not knowing they'll be in the same position as me in four years.
Who helped you get to where you are now?
Oh, dang. I have to list a lot of people, so please forgive the length.
Katie Hanson — HUGE influence, Dr. Scarlett, Dr. Joe McDowell, Dr. Ashley Burge, Dr. Schroeder, Dr. Crowe, Dr. Meg Gillette, my VP Sofia Briggs, Kaitlyn Watkins, Alo Ochoa ... the list is never-ending.
I am a mosaic of all those who have helped shape, challenge and influence me into the person that I present to the world.
I would be nowhere without the time and energy my professors put into my education, and challenging me to become a better student and critical thinker.
I would be nowhere without the support of my friends and family, or the kindness and empathy of the Augie community.
So much of my success is due to others taking time out of their lives to nurture potential they recognized in me, most times I didn't even recognize myself. I am beyond grateful.
Peak experience?
My peak experience was probably planning Homecoming Week at Augustana. I got to plan it with one of my best friends, Jared Slusher, and just seeing the campus get involved and excited about the events was so heartwarming. They put so much effort and work into all the activities, and seeing Jared's and my ideas become reality was so much fun!
Additionally, serving as the SGA president this year was so special. Getting to advocate for my fellow students was a tremendous honor.
What surprised you?
I learned of many different world problems because of my classes, and I felt so overwhelmed and defeated. I now know I cannot solve all of the world's problems, as no one can.
But, I can focus my passion in a specific area, as others focus in their areas. And suddenly, we're all working together to solve problems and make the world a kinder and empathetic place to exist.
What will you miss the most?
This sounds so silly, but I'm going to miss the classes the most. The great thing about a liberal arts education is that I get to dabble in SO many different subject areas. I love that I can be an English ed major, but also take classes about women and gender studies, or microbial biology. Also, I will miss the Brew, where I spent probably 97% of my time junior year.
Advice for the Class of 2027?
Remember the people who made you into this moment, who loved you into this moment. You are not here without them. And they will continue to love you and make you into each moment moving forward.
Be kinder, always. Be kind to yourself, be kind to others.
"Isabelle is bright and passionate about making the world a better place. She devotes time and energy in promoting justice and equity. Her intense curiosity and love of life are contagious. I have enjoyed watching her excel in my classroom as a student, in her role as student government president, and in her own classroom teaching English to middle school students. I have also enjoyed our engaging conversations about books, teaching and her future. I look forward to watching Isabelle graduate and take on the world."