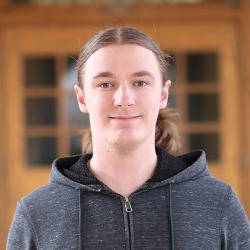 More Than I Imagined
Seniors reflect on accomplishments and look ahead
Henry Webb
Graduation year: 2023
High school: Whitney M. Young Magnet High School
Hometown: Chicago
Majors: Physics, Classics
Minor: Interdisciplinary Honors
Activities: Augustana Concert Band, Ascension Ringers, Augustana Physics and Engineering Society, Collegia Classica, undergraduate research assistant with Dr. Nathan Frank
Post-grad plans: Graduate school (physics PhD track)
Why Augustana?
I decided to come to Augustana College mainly because of its status as a small liberal arts college.
In high school, I valued taking classes in a wide variety of subjects, and I had (and still have) many different interests and hobbies. As such, I preferred a college that would give me the opportunity to continue pursuing all of my interests.
Other factors were financial aid and the college's location in the Quad Cities, both which helped set Augustana apart from other liberal arts colleges.
Are you where you thought you'd be when you first came to campus?
I knew I wanted to study physics, but I am mostly not where I expected when I first came to campus. I was encouraged by the excellent faculty in the Classics department to take up a Classics major, which I did.
Additionally, I work as an undergraduate research assistant for Dr. Frank in the physics department, which played an important role in my applications for graduate school. I have also worked a handful of campus jobs, from which I have learned skills valuable to me beyond college.
Who helped you get to where you are now?
The excellent faculty in physics and Classics played a major role in helping me get to where I am now. Without them, I would not have been as successful with my grad school applications, and I would not have been encouraged to pursue a Classics major. They helped me to refine my interests in physics and to decide whether grad school was right for me.
I also met my close group of friends from the First Year Honors program, without whom my experience at Augustana would not have been the same. It is thanks to them that I have lived in the houses I have lived the last four years, and they helped me to have a great time on campus despite the restrictions brought on by the pandemic.
Peak experience?
My peak experience so far has probably been traveling to New Orleans in October 2022 to present some of my nuclear physics research as a poster at the fall meeting of the Division of Nuclear Physics.
This was one of my first real conferences, so I had the opportunity to explore other research currently being done in the field of nuclear physics. My research is with the MoNA collaboration, so I also got to meet most of the collaboration members for the first time in person at this conference.
What surprised you?
One thing that surprised me was the undergraduate research experience I have been involved with. I never expected that I would have the chance to do nuclear physics research at a small college like Augustana, and especially not with a larger research collaboration like the MoNA Collaboration (based out of Michigan State University).
How did you use your Augie Choice?
I have not used my Augie Choice yet. However, I am participating in the Innovation in the Alps: Music, Science and Ethics study abroad program at the end of the year after I graduate. I plan on using my Augie Choice for this program.
What will you miss the most?
I will definitely miss my friends the most, especially my roommates. I have a really close group of friends, most of whom I met freshman year. I've done a lot of really fun things with my friends — traveling, movie/game nights and cooking meals, to give some examples. I didn't know anyone when I came to Augustana, and so I really value all the new people I have met here.
Advice for the Class of 2027?
Focus on what you enjoy! Don't pick up an activity, major or anything else just because you feel obligated to or because someone else suggested it to you. Having personal interest in a particular activity makes it much more enjoyable, and contributes to a better overall experience at Augie.
"Henry is an amazing all-around student with a dedication to the liberal arts. He utilizes different perspectives to generate novel solutions to complex nuclear physics research problems. He is a member of the leadership team and a peer mentor of the physics, engineering, and astronomy department's APS-IDEA peer mentoring group since he believes all students should feel equal in a physics class. We are proud of him and look forward to what he will do in physics graduate school and beyond."