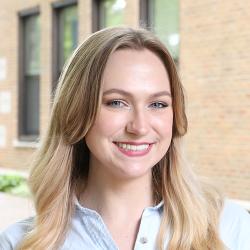 More Than I Imagined
Seniors reflect on accomplishments and look ahead
Hannah Weber
Graduation year: 2023
High school: Larkin High School
Hometown: South Elgin, Ill.
Majors: Geography, English
Minor: GIS (Geographic Information Science and Technology)
Activities: Delta Omega Nu fraternity (honorary), Quad Cities Pride in Memory, research assistant
Post-grad plans: I will pursue a Master of Science in Geography and Environmental Resources at Southern Illinois University Carbondale, where I will also serve as a teaching assistant.
Why Augustana?
During the college visit process, my sister shared this valuable bit of advice with me: to find a school where I could see myself waking up at every day. I was not sure what that meant or what that would feel like until I stepped onto Augustana's campus.
I truly trusted my gut on this one because I got the sense that Augustana was going to be able to provide a lot of opportunities for me. It just felt like home here, and Augie was ultimately the only school I applied to!
Are you where you thought you'd be when you first came to campus?
Not at all, but in the best way! I have been committed to trying new things and being open-minded, which is why I feel like I have found so much joy in my time at Augustana.
There are also so many ways to be involved on campus and in my majors that I wouldn't have expected or thought I was capable of, such as becoming an honorary in a fraternity.
Who helped you get to where you are now?
I wish there wasn't a limit to how much I could say for this prompt because there are so many people, friends and faculty at Augustana that have been so formative in my experience.
For one, my parents are incredibly supportive of me. They have always encouraged me to work hard in school so I can find a career or life path that truly makes me happy (which I have!).
Secondly, my roommates, Zach Bohrer, Bailey King, Ben Grafe and Brian Heffernan, hold such a special place in my heart. I had the privilege of being able to go home to them every day for two years. I love you, guys!
Lastly, the faculty here is what truly sets Augustana apart from other colleges. Their welcoming energy and eagerness to help is the kind of support system I will miss dearly.
Some staff and faculty members that have truly shaped my time at Augustana include: Beth Melton, Matt Fockler, Joe McDowell, Laura Greene, Jennifer Burnham, Christopher Strunk and Reuben Heine.
I would not be where I am without you all! Thank you!
Peak experience?
I will never forget the friendships I made on a class trip to Louisiana this past January. I would have never thought that in my senior year I would find such amazing people and create such beautiful friendships with them over just one J-term class!
It was seriously a trip unlike any other. Even when I fell ill on the trip, my friends would bring me food every day and consistently check in with me. It was so moving to see how people can come together to take care of each other.
What surprised you?
I think the professors here consistently surprise me with their willingness to help and support students. I feel like I am met with so much kindness and encouragement from them, especially in the geography department, that it has made me so eager to learn and even motivated me to go graduate school (thank you, Dr. Heine!).
How did you use your Augie Choice?
I used my Augie Choice for GEOG-230: Water and Environmental Justice on the Louisiana Gulf Coast. This J-term class included a 10-day trip to coastal Louisiana, and I absolutely loved it!
What will you miss the most?
I will have a huge Augustana geography department-shaped hole in my heart when I leave. I will always be so grateful for their support, kindness and encouragement. They are a stellar department!
What will be especially hard to leave is my friends and roommates. I do not know where I would be without the people I care so much about, and who I am so deeply connected with.
I will miss being so close to the lovely Mississippi River!
Advice for the Class of 2027?
Walk through life with an open heart and and an open mind. Life is a lot prettier that way. :) I would also advise students to be eager and engaged. The faculty here is so willing to help if you just ask!
"It has been such a pleasure to watch Hannah grow from a quiet student unsure of her future to a confident young woman who is ready to pursue her academic passions in graduate school. Hannah has a deep understanding of how the Augustana liberal arts experience has helped her grow, and she loves to share that with others. Her smiles and excitement about Augustana and geography are truly contagious! An ambassador extraordinaire!"