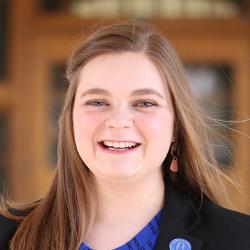 More Than I Imagined
Seniors reflect on accomplishments and look ahead
Gwendolyn Flannery
Graduation year: 2023
High school: Washington High School
Hometown: Washington, Iowa
Majors: Biology (pre-nursing program), public health
Minors: Aging studies, psychology
Activities: Augustana Symphonic Band, Augustana Symphony Orchestra, Sigma Alpha Iota – Delta Tau, TriBeta Biology Society
Internships: World Relief – Preferred Communities Intern; WesleyLife Halcyon House Retirement Community
Post-grad plans: Attend Trinity College of Nursing Accelerated BSN Program
Why Augustana?
When looking for schools, I wanted a small college that focused on supporting students throughout their college experience. Augustana goes above and beyond general student support, and I felt that from the moment I stepped on campus. Whether it's from our academic advisors or our career coaches in CORE, everyone at Augie is committed to helping students find their best selves and soar in every aspect of their college career.
Are you where you thought you'd be when you first came to campus?
No, not at all. I didn't expect the countless opportunities I would have and how much I would grow as a student and person. I took courses outside of my major and added two minors to further my understanding of working with others of different ages, understandings and backgrounds. I traveled to two countries and had two separate internships, all of which pushed me to learn more about myself, others and how far my Augie education and experience could take me.
Who helped you get to where you are now?
There are so many people who helped me throughout these last few years. My advisor, Dr. Dara Wegman-Geedey, who answered every question I had about nursing, no matter how big or small, which helped build my confidence in what I wanted to do and who I wanted to be.
Dr. Lena Hann, my Senior Inquiry advisor, who pushed me to be professional in every aspect of my life and taught me the importance of public health when helping others.
The music department for being my break from academics. My oboe teacher, Cynthia Lambrecht, who never failed to help me learn more about music and myself as a student, musician and person. And James Lambrecht, Symphonic Band director, who welcomed everyone to the ensemble and made each rehearsal and performance memorable.
And finally, my parents, who encouraged me to continue to ask questions and learn more about the world around me. Their support every day has made me into the resilient and driven woman I am today.
Peak experience?
My peak experience over my four years has been my travel experiences not only to Guatemala, but also to Japan with the Symphonic Band Tour my senior year. This experience not only taught me about the country and culture, but also created lasting memories with others as an ensemble after working hard all year to perform at a high-caliber level.
It is an opportunity I wouldn't have had anywhere else and would do it all over again if I could.
What surprised you?
I'm surprised by how quickly these four years went. I still remember visiting Augie, moving in my freshman year, the many struggles and stressful times — and it all feels like yesterday. I had no idea how much I would cherish these memories and my time at Augie now that graduation is approaching.
How did you use your Augie Choice?
I used my Augie Choice to travel to Guatemala with the psychology study abroad trip focused on risk and resiliency of children in the country. This $2,000 helped cover 90% of the entire cost and allowed me to travel, enjoy new food, and connect with organizations and families in the country.
What will you miss the most?
I know that I will miss the community the most once I leave. I can be anywhere on campus, whether it's the Brew, outside in a yellow or blue Adirondack chair or walking the Slough, and I will see friends, professors and other acquaintances around every corner.
The "Augie Bubble" is a real thing as I have seen how supportive everyone on campus is and how interconnected we all are. Those connections and support made me feel at home throughout campus.
Advice for the Class of 2027?
Don't overthink what's in front of you. There will be plenty of stressful moments, but I promise you that everything will work out. Rather than overthinking, take the time to call a friend, go on a walk around campus, explore the Quad Cities and enjoy every bit that Augie has to offer.
"As a teacher, what is more rewarding than to be involved in the self-discovery journey of one's student? It has been a blessing to be alongside Gwen Flannery these last four years as she prepared for a career in nursing, honed her skills as a leader, and completely blossomed as a caring human being."