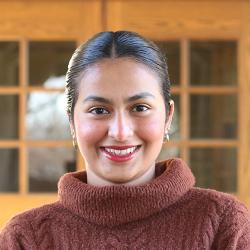 More Than I Imagined
Seniors reflect on accomplishments and look ahead
Gavinya Wijesekera
Graduation year: 2023
High school: Colombo International School
Hometown: Colombo, Sri Lanka
Majors: English; women, gender, and sexuality studies (WGSS)
Activities: Reading/Writing Center (RWC) peer tutor, Augustana Prison Education Program student assistant, Global Ambassador, Tredway Library Circulation, Dance Company, UNYK Multicultural Dance Troupe
Internships: Augustana's Office of International Students and Scholarly Services; CORE at Augustana
Post-grad plans: I want to get my master's in public health with a focus on maternal health and reproductive justice!
Why Augustana?
Initially, I think it was seeing the aerial pictures of Augie in the fall. But ultimately, I stayed because of the care my professors took to ensure I excelled in everything I did.
Are you where you thought you'd be when you first came to campus?
I never thought that I could be this happy, to be honest. I'm graduating with a degree that I'm incredibly passionate about. And I've found a community that has been so intentional in the love and support they give me. I feel so lucky.
Who helped you get to where you are now?
There are so many people, it's going to be hard to list all of them. 
My amazing parents, Janaki Siyambalagastenne and Mangala Wijesekera, who trusted me when I made the choice to switch from the sciences to the humanities during my junior year. My aththamma, Kamala Alahakoon, who is everything I aspire to be.
My best friends, who have given me the kind of love that I've only read about in books and never thought possible in real life. My professors, who have inspired and encouraged me. The library faculty, who I can always count on for the most brilliant and hilarious conversations.
The entire women, gender, and sexuality studies (WGSS) department. Their passion and dedication towards their students are unmatched. So much of what I have achieved, I owe to them.
And finally, my Reading/Writing Center. The RWC is the embodiment of all of Augustana's best qualities, be it in the way they encourage each student to be the best version of their scholarly self or how they advocate for students of color and international students like myself. Words can't express how much I love our space and community.
Peak experience?
Again, there are just so many. But my favorite would be the day Dr. Heacock-Renaud had a Jeopardy-style quiz in our WGSS 130 class. The winners were awarded extra credit on our final. I'm not a very competitive person, but I was an absolute menace that day. But hey, our team got an extra boost on our final. ;)
What surprised you?
How much I loved my classes. I was never a very academic person, and so I never expected to love my academics so deeply.
How did you use your Augie Choice?
I decided to skip out on my Augie Choice this J-term and spend that time with my family in Sri Lanka instead.
What will you miss the most?
The WGSS department, the library and the RWC.
Advice for the Class of 2027?
Be authentic to yourself. Whether it be when choosing your major or when you decide which campus groups to join. Oh and also, the Blue Couch in the RWC is the best place for a mid-day on-campus nap.
"Gavi exudes a unique brilliance and willingness to engage that have made a huge impact at Augustana. From community-building and social-justice initiatives on campus to meaningful work at the Reading/Writing Center and endlessly perceptive contributions to classroom discussions, Gavi's presence has been a gift. Fittingly, Gavi has received multiple awards from our women, gender, and sexuality studies program — and willingly read theory with me on the side! I can't wait to see what Gavi will do next."