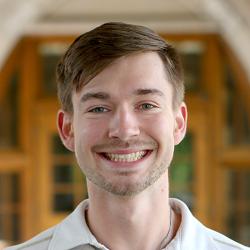 More Than I Imagined
Seniors reflect on accomplishments and look ahead
Gareth Kent
Graduation year: 2023
High school: Marquette Academy
Hometown: Ottawa, Ill.
Major: English education
Minor: Communication studies
Activities: Student Life Programming Board, Welcome Week, Rho Nu Delta fraternity
Internship: Student teaching at United Township High School, East Moline, Ill.
Post-grad plans: I accepted an English teacher's position at Reed Custer High School in Braidwood, Ill.
Why Augustana?
For me there were multiple factors: Augie allowed me to be far enough from home where I wasn't in my backyard, but close enough to where I could go home, if I needed to.
Augie had small class sizes, so I knew I was going to be able to interact with my professors, which was a requirement for me. I did not want to feel like a number.
Augie also sold me on the beautiful campus, tight-knit community and vibrant social life on campus. I am proud to disclose that everything was as advertised.
Are you where you thought you'd be when you first came to campus?
Absolutely not, but in the best way possible. When I arrived on campus, I had no idea what I wanted to do or who I wanted to be. I don't think I came into my own on campus till my sophomore year. But when I did, I went all out.
It took me some time figuring things out, just like everyone else. If you don't feel at home right away, keep on looking for your place on campus. Someone or some group is waiting for you.
Who helped you get to where you are now?
Countless people, and I am grateful for all of them:
Katie Hanson, my advisor and friend, who talked me through the job search and just life in general.
Holly Schou, my cooperating teacher, who modeled what an effective English teacher looks like.
Joe McDowell, my sophomore-year coffee companion, who made learning in COVID enjoyable.
David Crowe, my favorite professor, who made it so I can never hear "allusion" without thinking of him.
Meg Gillette, my idea of the perfect English teacher, who is responsible for me changing majors. (Thank you, Meg.)
Ken Brill, Michael Scarlett, Tia Fuhr, Michael Schroeder and of course my friends and family. Thank you, thank you, thank you.
Peak experience?
Meeting people who will be a part of my life long past graduation. That alone is worth the price of tuition.
What surprised you?
I am most surprised at how much clarity that college has given me. I don't have it all figured out by any means; I don't think anyone does. But by coming to Augie, I have learned about myself and the world around me. My perspective has changed and broadened, more than I could have ever anticipated.
How did you use your Augie Choice?
My Augie Choice helped cover my expenses while I was student teaching. (I planned to use it to go abroad to Ireland, but, you know, COVID.)
What will you miss the most?
Of course, I'll miss the people. Everyone probably says that, but it's true. You come here to learn, and you stay because of the people you meet along the way. I'll miss late-night chats with my roommates. I'll miss being able to walk down the hall to see my girlfriend. I'll miss my professors and the conversations in Evald 212. I'll miss the community, but I am also excited for everything yet to come.
Advice for the Class of 2027?
TALK TO YOUR PROFESSORS … as in outside of the classroom. Chat with them. Buy them coffee. Pick their brains because they are incredibly intelligent, and they are all willing to share. Ask them questions; when they answer, listen.
"I met Gareth in his sophomore year in a beginning English major class that almost made it through the beginning of COVID. After that we stayed in touch mostly through visits to my office where we would play chess and talk about life and faith. He has brought a lot of positive energy into my life, and I'll be extra proud to watch him walk across the stage this year. Even more, I'll have hope and confidence knowing that our children will be taught and mentored by such an honestly good and talented human being."