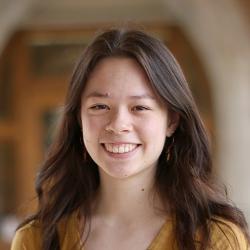 More Than I Imagined
Seniors reflect on accomplishments and look ahead
Emily Luming
Graduation year: 2023
High school: Lincoln Way Central
Hometown: New Lenox, Ill.
Majors: Communication sciences and disorders (CSD), Spanish for professional use
Minor: Linguistics
Activities: Reading/Writing Center tutor, OISSS global ambassador, UNYK Multicultural Dance Troupe, Global Engagement Team, InterVarsity Christian Fellowship, Augustana Prison Education Program
Internship: Student clinician for three semesters at the Roseman Center for Speech, Language, and Hearing
Post-grad plans: Attend graduate school to earn my master's in speech-language pathology
Why Augustana?
I loved Augustana's CSD program and beautiful campus from the very beginning, but what encouraged me to stay and dive deeper into the Augie community was all of the amazing people and supportive faculty. I felt comfortable getting to know my professors and mentors and felt that they truly believed in me and wanted me to succeed.
I also made the most phenomenal friends who have bettered me as a person and with whom I have shared so many life experiences!
Are you where you thought you'd be when you first came to campus?
Not at all. When I first came to campus, I was quite shy and not confident in my abilities or my identity. The supportive community I built encouraged me to think in new ways, and the well-rounded education I received changed my perspective about the world and my place in it.
While still remaining an introvert, I am more confident in myself and excited for goals I have set. My Augustana experience was truly transformative for me as a student and a person.
Who helped you get to where you are now?    
First of all, I owe everything and more to my parents for supporting my educational journey, but more importantly for giving me all of the love, encouragement and understanding to enable my growth in college. I also want to thank my siblings for being my best friends in the good times and the rough patches.
I also owe my success and growth to my professors and advisors who guided me and encouraged me to aim high. In addition, I want to thank the faculty of the Reading/Writing center for showing me just how awesome academia can be when we strive to include each person's voice.
I also owe my own personal growth to my spiritual mentors Meagan Gottcent and Professor Madison Haley who listened to me as I navigated my own identity and future.
Finally, I would not be anything at all if not for all of my friends who poured into me during my four years at Augie. I have had the greatest privilege in having each of them as a part of my life, and in having memories to keep forever!
Peak experience?
My peak experience has been working with the Reading/Writing Center and the Augustana Prison Education Program (APEP) to tutor students in East Moline Correctional Center. This work gave me new perspective, allowed me to meet so many great students, and gave me the opportunity to be a part of good work that will only continue to grow in the future.
Getting to be a small part of the bridge between the two campuses and engage in meaningful discourse in these tutoring sessions was so powerful.
What surprised you?
How much I loved being invested in the community at Augustana. I discovered that once I opened myself to the possibilities, I met so many amazing people who have enriched my life in endless ways. Even while being quite introverted, I was able to enjoy so many campus events because the community is pretty tight-knit. I'm surprised how much I've loved the small campus feel.
How did you use your Augie Choice?
I used my Augie Choice to travel to Cambodia for three weeks during the summer of 2022! We engaged in several service-learning projects in collaboration with local university students in Siem Reap, and we spent one week in the jungle region of the Mondulkiri province volunteering at an elephant reserve.
What will you miss the most?
I'll miss all of the connections I've made over the past four years, especially the friends I've made through being a part of the Reading/Writing Center and UNYK Multicultural Dance Troupe. Saying goodbye to all the wonderful people who have been there for me will be such a bittersweet moment!
And of course, I'll miss all of the small charms of Augustana's campus: walks by the Slough, the beauty of the stained glass in the campus chapel, and all the little spots around campus that hold memories.
Advice for the Class of 2027?
Take advantage of every opportunity and make an active effort to get to know people who are different from you. Augustana has such a great community if you invest in it, and you never know what you will learn and what friends you will make!
"Emily is a bright, dedicated and thoughtful student. As her clinical supervisor, I have witnessed her ability to conduct her sessions with confidence and intentionality. Emily has a heart for inclusion as evidenced by her work with the Global Engagement Team, and strives to help others succeed through her work as Reading/Writing Center tutor. It has been an honor to know Emily both professionally and personally, and I am confident she will continue to impact many lives in her future."