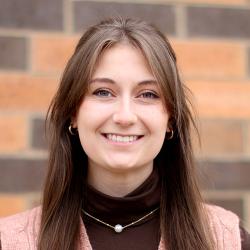 More Than I Imagined
Seniors reflect on accomplishments and look ahead
Ella Aldridge
Graduation year: 2023
High school: Fulton High School
Hometown: Fulton, Ill.
Majors: Communication sciences and disorders
Minor: Linguistics
Activities: Student Speech-Language-Hearing Association, Augustana Concert Chorale, Sigma Pi Delta sorority
Internship: Texas Medical Center Summer Research Internship Program
Post-grad plans: Attending UW-Madison for graduate school
Why Augustana?
Augustana had always been in the back of my mind because I lived only an hour away from the school. I was reluctant to go to Augie because of the small size and close proximity to my hometown. However, it turned out to be one of the best choices I have ever made.
For an 18-year-old entering the adult world, Augie gave me the right amount of nurturing and support to become who I have always wanted to be. My academic program of interest is also incredibly strong and has prepared me for my future.
Are you where you thought you'd be when you first came to campus?
My biggest hope for myself going into college was that I would be able to learn how to become a great speech-language pathologist. Unbeknownst to me, Augie taught me how to believe in myself, think critically and be a well-rounded human.
I never fell under the radar at Augie. I was led to great opportunities and experiences that I never thought I would have. I am proud of who I have become and I know I am ready for anything life hands me once I graduate.
Who helped you get to where you are now?
I absolutely have to thank my two CSD professors and mentors Dr. Allison Haskill and Dr. Ann Perreau. These two wonderful women have made my experience at Augie extra special. I could go on about their influence on me, but I think they know from my constant appreciation how much they mean to me.
I also have to thank Dr. Kate Hutcheson, Sheila Buoy and the research team from MD Anderson at the Texas Medical Center. Words cannot describe how influential these people have been to me. They were catalysts for me to realize where my dreams and priorities lie.
Lastly, I would be nowhere without the support of my friends and family. They have loved me and calmed my nerves through all four years of college.
One thing I will never take for granted is the people who are by my side and help me reach my best potential. I can only hope I will be as great of a role model as they have been to me.
Peak experience?
My peak experience was absolutely my Texas Medical Center research internship at MD Anderson Cancer Center. Without this experience, I would never have realized where my passion within my field lies. It created a newfound confidence within myself and new, lifelong relationships. It is undeniably my favorite memory from my time at Augustana.
What surprised you?
What surprised me is how much I enjoyed my non-major classes. I took so many interesting classes like video game music, African American literature, formal logic and so many more. I loved my liberal arts education and the freedom to take classes that interested me outside of my intended focus.
How did you use your Augie Choice?
I used my Augie Choice for my Texas Medical Center research internship.
What will you miss the most?
I will miss the connections and relationships I made with my friends and professors.
Advice for the Class of 2027?
College is not high school. You have the chance to rewrite old perceptions of yourself. You will find people at Augustana who share similar values as you do and will help open your mind to new ones. You have the power and the resources to change your life. Do not be afraid to explore! Good luck!
"Ella is a truly outstanding student and lucky me to be one of her mentors! She has grown in so many ways and taken advantage of the wonderful opportunities that Augie has to offer from internships to undergraduate research and presenting at professional conferences. All of these experiences speak to Ella's dedication and high achieving nature. There are no bounds to what Ella will accomplish as she fulfills her dreams!"