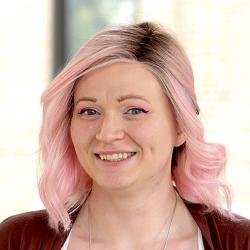 More Than I Imagined
Seniors reflect on accomplishments and look ahead
Elizabeth Sloan
Graduation year: 2023
Community colleges: Madison Area Technical College and Scott Community College
Hometown: Rock Island, Ill.
Major: Computer science
Activities: Vibrant Augie, Augie Acres
Internships: Augustana Web Guild, Rock Island Lead Service Line Project
Post-grad plans: Pursuing a PhD in human computer interaction at Iowa State University
Why Augustana?
I originally wanted to pursue my degree in physics, and Augustana seemed to be the only college in the area offering what I wanted at the time. However, when I changed my major to computer science, I did have a moment where I strongly considered changing colleges. It was a really stressful time for me.
While Augustana has its ups and downs, it also has a wonderful support system and is full of professors and students who want you to succeed.
Are you where you thought you'd be when you first came to campus?
I didn't come to college with any other plan than to graduate. I'm fairly Zen about the path my life takes. I knew I wanted to do something that would set me up for success after I graduate, but honestly, all of the departments want the same thing for their students.
So I feel like I could have been a history, accounting or art major, and I would have been just as happy as I am where I ended up.
Who helped you get to where you are now?
My partner, John Reed: I am very lucky that I have a partner who could support me while I went to school. I literally would not be here without him. Instead I would probably still be driving buses and wishing I could be making something more out of my life.
Dr. Forrest Stonedahl: He's the reason I stayed. I can't overemphasize the amount of mental, emotional, academic and guiding support that he has provided since even before I changed my major to his department. He's made the entire difference in my experience.
Peak experience?
Meeting so many wonderful people, and getting to share the same class and social times with them. The people in the computer science department are so much fun. I always love hanging out on campus because of the wild adventures that I find myself experiencing by just being there.
Oh, and petting the baby goats when the petting zoo came by that one time.
What surprised you?
How much more work college is from community college. A lot of the professors really care about you learning and mastering their subject, and they will go in-depth into what you're doing. I loved how much knowledge is available to take away from each class.
How did you use your Augie Choice?
I didn't, and I'm kind of mad about it.
What will you miss the most?
The people. You really don't get the same kinds of interactions anywhere else.
Advice for the Class of 2027?
Meet people! People are so wonderful and fun. It's going to be awkward and uncomfortable, and you're going to act like a fool and it's going to be embarrassing. But it's so worth it. Just ask them their name and go from there. As long as you bring your authentic self, you won't regret it.
"It has been my great pleasure to watch Elizabeth's skills grow from her very first computer science course (where she discovered the magical powers of Python) to an upper-level software development course (where she assumed the roles of UI/UX designer, Java programmer and agile team facilitator), all the way to her acceptance into graduate school. Her can-do-anything attitude and witty sense of humor will surely be missed!"