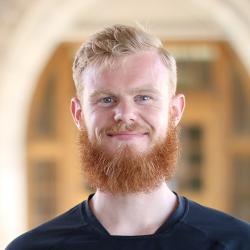 More Than I Imagined
Seniors reflect on accomplishments and look ahead
Eirik Andersen
Graduation year: 2023
High school: Buskerud VGS
Hometown: Kongsberg, Norway
Majors: Accounting, international business, data analytics
Activities: Varsity soccer, varsity track & field
Post-grad plans: Work as an audit associate at BDO in Drammen, Norway
Why Augustana?
I wanted to study and play soccer in the U.S., and Augie seemed like the best fit for me. I liked the idea of going to a smaller college where I could form close relationships with my professors and shape my education by taking classes in different subjects.
Are you where you thought you'd be when you first came to campus?
Somewhat. My plan was to major in international business and play soccer, but I didn't know exactly what I wanted to do after college. Through my first year at Augie, I was exposed to other related majors and career paths, which gave me a better idea of what I wanted to do in my career. This led me to add two more majors and gave me the motivation to explore more possibilities.
Who helped you get to where you are now?
There are a lot of people who have helped me get to this point, but none of this would be possible without the support of my parents who always encourage me to follow my dreams.
My professors have pushed me to do the best that I can, and their faith in me has given me the confidence to succeed.
Two of them have done more than anyone to help me thrive and reach my potential and deserve a mention, and that is Mrs. Marmé and Professor Nadia Schwartz. Mrs. Marmé is always there for her students and has helped me plan my classes, and Professor Schwartz was the one who suggested that I should major in accounting, which is where I'm now starting my career.
I also need to thank Jay Clark in sports medicine for helping me stay healthy enough to play sports. He has gone above and beyond, spending hours with me every week for four years, just to help me stay fit.
Peak experience?
I think every day at practice with my teammates — working together to get better, and sharing the good and the bad days — is what I'll look back on as the peak experience of my time at Augie.
What surprised you?
I was surprised by the close relationships I have formed with my professors. I didn't expect them to care so much about me and be so invested in my success at Augie, both academically and personally.
What will you miss the most?
The people are what made these four years at Augie special. I will miss my friends, teammates, professors and coaches the most, as they have been such a big part of my time here. Without them, I would not be the person I am today.
Advice for the Class of 2027?
Everyone here wants to see you succeed so don't be afraid to ask for help or advice from faculty, teammates or other students.
"I met Eirik as a first-year student. We think of teaching students to become lifelong learners is in our purview as faculty. Eirik is one of those students who made me feel my role was superfluous. This impressive first-year student has now developed into a thoughtful individual. I am looking forward to seeing his next steps."