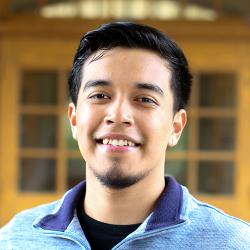 More Than I Imagined
Seniors reflect on accomplishments and look ahead
 Diego Andon
Graduation year: 2023
High school: Legacy of Educational Excellence High School
Hometown: San Antonio, Texas
Major: Sociology and anthropology
Minor: Public health
Activities: Delta Omega Nu fraternity, Latinx Unidos, Asian Student Organization, Office of Student Inclusion and Diversity
Post-grad plans: I plan to travel back to my hometown and make up the time I missed with my family. I intend to work in community health and help underserved communities through community outreach and health program design as well.
Why Augustana?
I chose Augustana because it offered me an opportunity to travel out of state. Along with this, my family members attended Augie so I already knew that I could make more memories that my family could relate to.
Are you where you thought you'd be when you first came to campus?
In all honesty, I didn't realize how much I would miss about campus. I was able to make so many memories, and I did not think I'd be where I am today. More so, I got the opportunity to involve myself in extracurricular activities, organizations and clubs on campus. This helped me to gain confidence in public speaking, and I was able to push myself out of my comfort zone.
Who helped you get to where you are now?
I had the support of my family all along the way. Especially during the pandemic, I always did my best in my academics. My family always cheered me on through text messages and pictures they would send from home. My family always pushed me and recognized my passion for the career I wanted to work in. My mom would give me words of affirmation that reassured my emotional and mental well-being.
I remember a time during the pandemic when I was burnt out and stressed about schoolwork. My family told me that grades and academics should not have to define me. Throughout my college career, I knew I could always rely on my family and the strength they gave me to finish strong.
Peak experience?
My peak experience was being vice president for Latinx Unidos because I made the most memories in my culture group. It was an honor to support and celebrate my background through the position. I got to plan culture-related events that recognized Latinx cultures, such as Día de los Muertos, Our Lady Guadalupe and Caribbean Night.
It made me happy that the student body always came through and was curious about the significance of Latinx Unidos cultural events.
What surprised you?
What surprised me the most was the timing of the pandemic during the spring semester of my freshman year. I did not anticipate that we would have to take hybrid classes, wear masks and social distance when it was okay to return to Augie. My college experience was forever changed when we were told that spring break would extend for two more weeks.
What will you miss the most?
I am going to miss my community or the "Augie bubble" where all of my friends are. I did not think I would make so many close bonds here at Augie. I feel like I will always have a sense of nostalgia when I come back to visit.
My four years living at Augie with my close friends — I will always look back at the memories as I embark on my future endeavors. The connections I have made at Augie will carry on even as I plan to make new memories after college.
Advice for the Class of 2027?
Your freshman year is the best time to explore your identity. Everyone comes to college/university for different reasons, but these are also important years of your life to meet new people and form new connections.
"Diego is one of those students I will always remember. His instinctive empathy for those around him and his thoughtful attention to peoples' needs are inspiring. His four years at Augustana has also been a journey of huge personal growth, and that has been amazing to witness. As a sociology and anthropology major with a public health minor, he also embodies the spirit of the liberal arts."