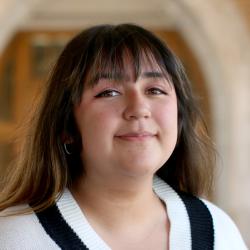 More Than I Imagined
Seniors reflect on accomplishments and look ahead
Claudia Vallejo
Graduation year: 2023
High school: Oswego High School
Hometown: Oswego, Ill.
Major: Geography
Minors: Geology, GIST (Geographic Information Science and Technology), Spanish
Activities: Multicultural Programming Board (MPB), Office of Student Life (OSL), Latinx Unidos, Chi Omega Gamma sorority, Presidential Inauguration Student Engagement Team, UNYK Multicultural Dance Troupe
Internships: Bi-State Regional Planning; summer research with Dr. Arkle
Post-grad plans: tbd!
Why Augustana?
I chose Augustana because I appreciated their emphasis on diversity and how students of color are provided with the three culture houses as a safe space on campus. I liked that they had a tour guide in Spanish because that allowed my parents to learn about the school simultaneously. I was also impressed by the geology and geography departments!
Are you where you thought you'd be when you first came to campus?
Not at all! Since then, I've been able to break out of my shell and have taken a different route from what I had planned initially coming into college. But I am happy with where I am and look forward to where I will be post-graduation.
Who helped you get to where you are now?
So many people have helped me along the way, and I will always be forever grateful. This will look like a grocery list because I want to mention so many people!
First, my parents and their unconditional support have greatly helped me, particularly these past four years.
Keri Bass from CORE! She has been so helpful since my first appointment with her during the summer of sophomore year. She has become someone who I can confide in. :)
Ken Brill and the OSL have given me so many opportunities to grow as a person and increase my work skills.
My friends (especially my upperclassmen friends). who are always there for me in many instances and have made me a better person.
All of the faculty in the geography department ignited my passion for geography and opened my eyes to see the world in new ways, and they have been so supportive these past years.
I could go on, but I am forever thankful for everyone I have met through this school.
Peak experience?
My peak experience was visiting Holden Village during J-term of my junior year. I signed up for this study away mainly because I needed to complete my religion credit, but I came out of this trip with many new experiences. From the class to the environment and the people I was around daily, I feel like I became a new person during my stay. I miss this place dearly and hope to return someday during the wintertime. :)
What surprised you?
How easy it is to get involved! These opportunities are all over campus; you have to push yourself a little bit!
How did you use your Augie Choice?
It paid for my GEOG 230: Louisiana, Water & Environmental Justice J-term trip, where we traveled coastal Louisiana for 10 days.
What will you miss the most?
I will miss my friends the most. They've all significantly influenced my life and given me many memories I will look back on for the rest of my life. From my friends who have already graduated to those in grades below mine, I'm thankful for our time together.
I will also miss the OSL and being part of MPB. That office has been my little home on campus since I started working there my freshman/sophomore year.
Advice for the Class of 2027?
It is okay if things don't go according to plan. The plan you make for your college years when you're 18 will most likely change in many ways, which is okay! Be gentle with yourself. :)
"Claudia has had a tremendous impact on the Office of Student Life. She embraces the importance of student engagement and has worked tirelessly to create a sense of belonging for everyone in our community. It has been fun to watch Claudia grow as a leader. Early on in her Augie experience, Claudia listened to her peers to better understand their needs. More recently, she has led countless programs, recruited and trained new student leaders while positively impacting our entire team. I wish her the best as she continues on her journey of leadership and service to others."