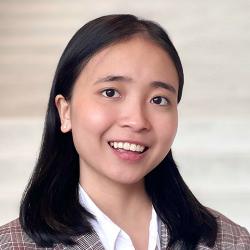 More Than I Imagined
Seniors reflect on accomplishments and look ahead
Chi Vu
Graduation year: 2023
High school: Tran Hung Dao High School for the Gifted
Hometown: Phan Thiet, Vietnam
Majors: Business administration – marketing, communication studies
Activities: Reading/Writing Center peer tutor, Augustana Prison Education Program, International Admissions ambassador, Advertising Developers Club, ODK honor society, Entrepreneurial (EDGE) Center, Chi Alpha Pi sorority, former Augustana Concert Chorale, former Greek Council
Internships: Strategy intern at Wasserman Media Group-NYC; cancer research trainee at MD Anderson Cancer Center-Houston; marketing and social media intern at Bulbshare-London; project manager at Augustana's Entrepreneurial (EDGE) Center
Post-grad plans: I will be pursuing a master's in emerging media studies with a focus on exploring the impact of AI/VR on human life, while working as a graduate assistant in marketing/promotions.
Why Augustana?
Prior to applying to Augustana, I was interviewed by Liz Nino, the executive director of international enrollment. Her positive attitude, excellent interpersonal communication skills and respect for international students convinced me that Augie would provide me with a top-quality liberal arts education and a welcoming home away from home.
She has been one of the best bosses at Augie I have had, besides Lucas Street and Farah Marklevits in the Reading/Writing Center.
Are you where you thought you'd be when you first came to campus?
When I first came to campus, I had faith in my ability to grow no matter where I went. Augie, however, exceeded my expectations with its world-class professors and supportive friends who gave me equitable opportunities to thrive and reflect on my experiences.
Besides, Dr. George Boone's mentorship has been a source of inspiration and a guiding light in my academic pursuits, which guided me to adopt an open-minded approach to challenge conventional norms.
Who helped you get to where you are now?
I consider myself incredibly fortunate to have been a student of Dr. Boone, who expanded my knowledge in communication studies, digital video game studies, and technology.
Dr. Boone's classes equipped me with indispensable research skills, earning me praise for my writing and qualitative analysis during my Texas Medical Center internship. His letters of recommendation immensely assisted me in securing admissions to top marketing and communication programs such as Northwestern, Boston, Michigan State and Illinois State University.
Professor Mamata Marmé, Dr. Storl, Dr. Snowball and Dr. Varallo also played an integral role in shaping my academic journey, offering invaluable assistance and unwavering support throughout my grad school application process.
Dr. Ericson's guidance in my marketing research project and the support of Doug Tschopp were also invaluable. Dr. Ericson's mentorship taught me exceptional organizational skills and work ethic, which will benefit me in my future career!
Peak experience?
My peak experience was studying abroad in London while turning a subtle microaggression I experienced there into an award-winning conference presentation at the National Conference on Peer Tutoring in Writing.
This event was a transformative moment that taught me to advocate for myself and to inspire others to take action toward fostering a welcoming and inclusive environment for English-language learners.
What surprised you?
I am amazed at my perseverance, leadership abilities and aptitude for learning. Conducting cutting-edge research, holding executive positions and making connections across the United States have expanded my horizons and transformed my mindset.
The Augie community exceeded my expectations by being incredibly supportive and welcoming!
How did you use your Augie Choice?
I used my Augie Choice to study abroad and intern as a global marketing and social media intern at a start-up in London. That was a life-changing experience for me (especially because I got to take pictures with Olivia Colman and Dakota Johnson in London).
What will you miss the most?
I'll miss the thought-provoking conversations with my professors and friends at Augie, and the safe haven that is the Reading/Writing Center (RWC).
Lucas Street and Farah Marklevits have taught me to be an ally and lifelong learner and to challenge stereotypes, and shown me how to support minority groups. I am thankful for the safe space they have created at the RWC, and for believing in my potential and inspiring me to always have faith in myself.
Advice for the Class of 2027?
Build relationships with professors during office hours. Set goals, prioritize mental health, don't compare yourself to others and seek help when needed. Stand up for yourself and contribute to creating community and belonging for marginalized groups.
"What a pleasure it has been to get to know Chi. She is very creative and thoughtful with an amazing work ethic. While a student here she has seized opportunities including internships at MD Anderson Cancer Center and two advertising agencies. Her outstanding academic performance and her numerous on- and off-campus experiences made her an excellent candidate for graduate school admission to a prestigious master's program. She might head to the corporate world following graduate school, but I think she should consider becoming a college professor."