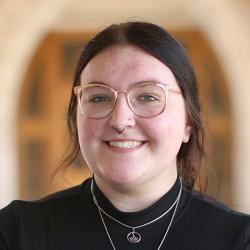 More Than I Imagined
Seniors reflect on accomplishments and look ahead
Briana Kunstman
Graduation year: 2023
High school: Saint Charles East High School
Hometown: Saint Charles, Ill.
Majors: Psychology; women, gender, and sexuality studies (WGSS)
Activities: Psi Chi/Psych Club president, community liaison for Augie's NAMI, leader for The Gray Matters, Psychology Department assistant
Internships: Clock, Inc. intern; Bloom Counseling & Therapy intern; Figge Research Project research assistant
Post-grad plans: I am headed to University of Illinois Champaign-Urbana to pursue a PhD in social-personality psychology!
Why Augustana?
Augustana feels like a second home, and it has always felt that way. The people at Augustana care about getting to know you personally. They want to hear your goals and hopes, to know your pet's name and to be up-to-date on your latest trip. It is beyond getting to know someone academically. There is something really special about your professors taking the time to truly get to know you before jumping in and working with you.
Are you where you thought you'd be when you first came to campus?
Not at all! When I first came to Augustana, I wanted to be a therapist. I actually used to tell my parents that I could NEVER enjoy research. However, I fell in love with research my junior year, and I have been sold on continuing it ever since.
I have been challenged by the work I am doing, and I love that it pushes me every single day. I am going to be pursuing a PhD in social-personality psychology, and I plan to focus on human sexuality and gender.
Who helped you get to where you are now?
This is such a hard question to answer. My incredible professors have all played such a huge part in my success.
Dr. Jennifer Heacock-Renaud, Dr. Allie Barringer, Dr. Jane Simonsen and Dr. Kiki Kosnick have been my number one cheerleaders. They have encouraged me to be the best possible version of myself. I am so grateful for everything that they have done for me; words can not describe how appreciative I am for their kindness.
Chase Norris from Clock, Inc. and Melissa J. Hill from Bloom Counseling & Therapy have also given me extraordinary opportunities that have allowed me to grow in my knowledge.
Finally, I have to acknowledge my amazing family, friends, cat (Louis) and partner. They have been there through all of it. From beating cancer my freshman year to preparing to graduate, they have loved me and encouraged me the entire way. I love them so much, and wouldn't be here without them!
Peak experience?
One of my peak experiences was being the president of Psi Chi Honor Society. I can recall being in high school and doing visits; I always became excited when I saw they had a Psi Chi chapter!
The fact that I have now gotten to work alongside amazing people and create so many memories as the Psi Chi president is unreal. I have loved each and every minute that we have spent planning, chatting and brainstorming, and I feel that it has given me a lot of confidence in my presentation abilities.
What surprised you?
I was surprised to see that Augustana had a Digital Commons that students could use to publish work. Due to this, I have published several pieces and connected with people all around the world! I was even able to publish a piece I did my freshman year when I was first diagnosed with cancer, and having that piece as something people can read and relate to means a lot to me.
How did you use your Augie Choice?
I used my Augie Choice to travel to Guatemala for the risk and resilience course! It was one of the most incredible experiences in my entire life. There is not a day that goes by where I don't miss Guatemala. The people are beautiful, the places are beautiful, and the stories are beautiful.
What will you miss the most?
I am really going to miss walking on Augustana's campus during the fall. The leaves look so gorgeous, and the atmosphere is impossible to beat. It is very calming and really gives you a moment to be 100% present. I especially enjoy grabbing a coffee at the Brew before class during the fall — it's the best!
Advice for the Class of 2027?
Please enjoy it while it lasts. It may be stressful and daunting, but the time you spend at Augustana is priceless. Take advantage of the opportunities that come your way. Don't be afraid to ask questions. Give yourself time to explore what you truly want.
"In WGSS, we emphasize the imperative of finding your voice and using it. Brie has a powerful voice: honest, insightful, empathetic, joyful, fiercely feminist in a way that is not just performed, but lived. Brie never shrinks from challenging our theories, research and ideals to be more inclusive, so that everybody has a place. Not only our classrooms, but our program is better for Brie having been in it."