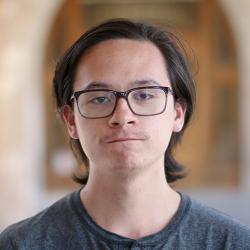 More Than I Imagined
Seniors reflect on accomplishments and look ahead
Blake Traylor
Graduation year: 2023
High school: Metea Valley High School
Hometown: Naperville, Ill.
Majors: English, Spanish, creative writing
Minor: Linguistics
Activities: SAGA Art & Lit Magazine (students: please submit!), Reading/Writing Center peer tutor (students: please visit!)
Post-grad plans: Explore new ground in Austin, Texas, and do creative work (ideally for pay, but definitely for myself)
Why Augustana?
Oddly enough, Augie was the first school I bumped into at my first college fair, and it lasted all the way to my final 50/50. At the end of the long decision process, though, I realized the coin I was about to flip wasn't fair anyway. I'd toured both this campus and the other school's, and while both first impressions were filtered under the miserable cover of winter, I found myself drawn toward the more relaxed vibe I found here at Augie.
Are you where you thought you'd be when you first came to campus?
Yes and no. I grew up reading and mimicking old literature, so I came into orientation knowing I'd be an English and creative writing double major. I'd studied Spanish all through high school and entered the program here on a whim, only for that minor decision to bloom into a third major plus minor (linguistics – thanks, Jefe).
What surprised me most, though, was the handful of friends I've kept from Day One onward. My new personal research niche in old nuns and body horror comes close, though.
Who helped you get to where you are now?
My longtime roommates keep me afloat. We've gone from carting a TV between the two rooms of a suite to mistaking eerie winds for deer calls out our Slough-side window to cooking overcomplicated dinners in our wrinkled corner house. You can read a little bit of Henry Webb's experience in his "More Than I Imagined" profile. Shoutout to Chris and Rowan, too.
I don't live with Carly, my co-editor at SAGA this year, but she's a stellar example of what small schools do great: make you rub elbows with folks whose goals and perspectives complement yours. We've helped each other push our writing from first-year first-drafts to ... well, you can read our newest stuff in SAGA vol. 86, when that comes out.
You can see some of Chris's artwork there, too. I credit him with keeping me in touch with a lot of the fun, goofy stuff that makes life worth living. And with nudging me back into video games and visual art.
Many thanks to all my professors, too: from the ENGL/ENCW/SPAN departments to the RWC.
Peak experience?
I could point to any one big event, from my virtual presentation at the National Conference for Undergraduate Research 2022 to my arduous, wonderful trip to the Association of Writers & Writing Programs 2023 (thanks to Dr. Joe McDowell for helping make both of those happen), but it's all the scattered nights spent with friends that hold my deepest appreciation. We raised modest hell in the Westie Lounge, in the Quad as Little Happenings (you remember Little Happenings?), and in our many homes.
What surprised you?
Little Happenings. We were a short-lived absurdist performance troupe. We haunted the Quad. We screamed at buckets of fried chicken, praised a column of bluetooth speakers, made unthinkable omelettes to order, ran a gelatin petting zoo. Etc. The club has been defunct for a while, but it gave me my closest friends, my confidence, and plenty laughs looking back.
What will you miss the most?
I'd like to think I've been up and down the Slough path more than anyone ever has. As an underclassman, I took countless walks around campus. I still do, every now and then. We're too beautiful not to.
Across my several moves between dorms, this whole biome (and its legendary bubble) has become a home to me unlike any other. I grew up a nomad, but I'll miss this place deeply, uniquely. And then, of course, we have all the wonderful people who've been here with me.
Advice for the Class of 2027?
Get involved with art around campus. I've been with SAGA, our art & lit magazine, my whole time here; please, engage with us as a reader, contributor or even staff member. Do visual art, graphic design, music, theatre, writing, anything! Find beautiful ways to speak and listen to each other.
"Hardworking yet humble, Blake quietly excels at everything he does. His serious dedication to the writer's craft is matched only by his quick wit and offbeat sense of humor; some of my favorite moments in the Reading/Writing Center have been spent laughing out loud with him. A triple major, SAGA editor and RWC tutor extraordinaire, Blake wears many hats — including the occasional jester's cap or even a banana hat. Bless you, sir. Thanks for doing your part to keep Augustana weird and wonderful."