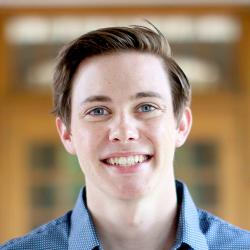 More Than I Imagined
Seniors reflect on accomplishments and look ahead
Ben Grafe
Graduation year: 2023
High school: Deerfield High School
Hometown: Deerfield, Ill.
Majors: Communication studies, political science
Minor: Sociology and anthropology
Activities: Delta Omega Nu fraternity, Augustana Choir, first-year peer mentor, peer mentor coordinator, Senior Gift Planning Committee, Political Science Student Advisory Council
Internship: Hillary Scholten for Congress field organizing intern
Post-grad plans: Pursuing a job in political communications
Why Augustana?
I chose Augustana because it is the place that I felt the most connected. Growing up, I was surrounded by a network of alumni whose love for the school and its transformative experiences was clear.
Due to their stories, Augustana was the place that I pictured myself pursuing my passions and growing as a person. Today, I couldn't be more thankful for the decision that 17-year-old-me made.
Are you where you thought you'd be when you first came to campus?
Not at all! I have grown in every aspect of my life, both inside and outside the classroom. The supportive environment of Augustana helped me feel comfortable to take risks, try new things and push outside of my comfort zone. I have grown as a student, leader, musician and person, and I have Augustana to thank for that.
I didn't know my exact path when I came to Augie, but over these four years I have discovered more of myself and my passions, which will help direct me with what is next.
Who helped you get to where you are now?
So many people have helped me on my journey!
My advisor Dr. Meg Kunde has been a guiding voice for me throughout my whole time at Augustana, pushing me beyond what I thought I could achieve in the classroom.
Dr. Jon Hurty has taught me how to truly embrace and love what I do. Beth Melton, my boss in admissions, has shown me how much a positive outlook on life can change things.
My roommates, who have shown me unconditional love and friendship that will last a lifetime. Finally, I want to thank my family who has constantly supported me in everything I do.
All of these people, and so many more, have been unwavering supporters of my journey at Augustana and have played a key role in helping me grow into the person that I am today. I couldn't have gotten to where I am today without their love, support and guidance, and for that I am forever grateful.
Peak experience?
My peak experience was the international tour for the Augustana Choir, spending two weeks as an ensemble in Germany and the Czech Republic. This was a phenomenal opportunity to share our music across the world and experience new cultures.
It was so fun to explore new cities and try new things with such an amazing group of friends. My favorite moment of the whole trip was an impromptu concert on the singer's balcony in the Battle of the Nations monument.
What surprised you?
I was surprised by how busy and involved Augustana students are. Augustana is a place where students can pursue all their passions and interests and not be forced to pick one or the other. It feels like every Augie student is in multiple clubs and activities, has multiple majors or minors, and loves everything that they do.
How did you use your Augie Choice?
I used my Augie Choice to help pay for the Augustana Choir tour to Germany and the Czech Republic! The Augie Choice funds were crucial to making sure that I could have such a formative experience.
What will you miss the most?
I will miss the closeness of the community. The tight-knit community of Augustana students, staff, faculty and administrators is unmatched. Never again will you be able to live so close to so many of your friends and interact with your mentors and advisors on a daily basis like you can at Augustana.
I will miss the little things — the smiles on the way to class, saying "hi" to people in the Quad or a quick conversation with a friend in the Brew — that make this place feel like home.
Advice for the Class of 2027?
Take advantage of every opportunity. You never know what new club or activity will spark your interest. Your time at Augustana will absolutely fly by, so don't be afraid to say yes to something new and be present in every moment so none pass you by.
"Ben was in one of my classes his first semester at Augie, and has been my advisee ever since. I have had the privilege of watching him excel in so many different ways, making the most of his college experience. He's a deep, critical and clever thinker who approaches life with curiosity and fun. It's the type of energy society needs for positive change to happen. We can't wait to see how he continues to be a part of that change."