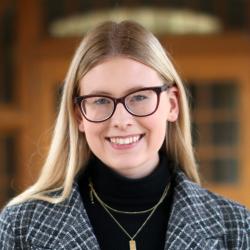 More Than I Imagined
Seniors reflect on accomplishments and look ahead
Ayradi Catron
Graduation year: 2023
High school: Unity High School
Hometown: Sidney, Ill.
Majors: Political science, English
Minor: Psychology
Activities: Peer mentor, Office of Student Life, Greek Council, Phi Rho sorority, political science department research project assistant
Post-grad plans: Law school
Why Augustana?
Augustana was not on my radar prior to a last-minute visit to a college fair my senior year of high school. The conversation I had with my Augie admissions counselor turned into a memory that kept resurfacing every time I thought about colleges, for it felt as though he was getting to know me as a person rather than a potential student or number.
That was what I wanted: to feel like I was not just another student but rather someone important. I ended up choosing Augie for that feeling.
Are you where you thought you'd be when you first came to campus?
I am unsure who I thought I would be by senior year, but I like where I am now. Me four years ago wanted to travel the world and continue on the right path for law school. Because of the services and programs Augustana offers to students, I was able to affordably travel to multiple countries and was set on the pre-law track early in my education here.
I am applying to law schools, and I know that I have the experiences and skills necessary to succeed at that level.
Who helped you get to where you are now?
Everyone. Everyone I encountered helped me in some way. The small moments of encouragement or perseverance got me through the bigger moments, and the people in my life during those times helped me get to where I am now. I am confident that without the support systems I have had the privilege of being a part of, I would not be where I am today.
It would be difficult to name all the people who got me here, but I would be remiss not to name my parents as two of my biggest supporters. I would not be anywhere in life without them, but I would especially not be where I am now had they not been so supportive in all my decisions.
There were also.... Friends turned to family. Strangers turned to friends. Professors. My cat. Co-workers. Classmates. Everyone.
Peak experience?
My peak experience would have to be traveling to Sweden for two weeks for a research project with Dr. Mariano Magalhães and a research assistant-turned-friend. I was invited to join this project through the Wallenberg Faculty Grant for Scandinavian Studies, which made it an all-expenses-paid trip, and it was the easiest decision I ever made. It was also the most rewarding one.
I was able to professionally build my skills in research and presentation, to socially expand my network internationally, and to personally grow as an individual.
What surprised you?
I was surprised with how many opportunities would be offered to me. While I learned in my research of Augustana that there would be limitless opportunities, that felt more like an advertising scheme than reality. It was not. With so many resources and support systems for students, Augustana truly does help you accomplish your dreams.
How did you use your Augie Choice?
I used my Augie Choice to travel abroad. I spent three weeks over J-term in Mexico studying travel blog writing and learning about the places we visited along the way. Dr. Kelly Daniels and Liz Nino led the trip. I would recommend that class to anyone; it was an enriching experience both academically and personally!
What will you miss the most?
I will miss the people. As cliché as it sounds, time really does go by so fast. I am so grateful for the experiences I have had in these four years, but I am most grateful for the people I have met. They truly did make my time at Augie what it was, and I wish we could live this close longer. When I think back to my time here, they are who will come to mind the most.
Advice for the Class of 2027?
Be present in every moment. As someone who is always thinking about the future and next steps, my most special memories at Augustana are when I was really, truly, completely in the moment. There will be times for thinking about where you will be after Augie, but while you are here, be present.
"Ayradi has been one of the best research assistants I have had in the past 20 years. She is reliable, incredibly organized and very detail-oriented. She also thinks deeply and has excellent critical thinking and problem-solving skills. Ayradi, in fact, was a genuine partner in the research we conducted in Sweden, comfortably asking questions during interviews, providing insightful comments on the project, and taking the lead in organizing our research efforts. Ayradi is a rock star who can accomplish anything she puts her mind to!"