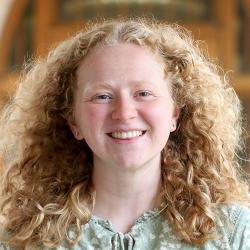 More Than I Imagined
Seniors reflect on accomplishments and look ahead
Alison Lawrence
Graduation year: 2023
High school: Hononegah Community High School
Hometown: Roscoe, Ill.
Majors: Biology/pre-med; women, gender, and sexuality studies 
Minor: Spanish
Activities: Reading/Writing Center tutor, Augustana Prison Education Program, Camp Kesem, Chi Alpha Pi sorority, Mortar Board, ODK leadership honor society
Internships: Texas Medical Center Summer Research Internship Program, UnityPoint-Trinity Physician shadowing internship, Quad Cities Pride in Memory Project internship
Post-grad plans: Pursuing an MD at the University of California Irvine School of Medicine
Why Augustana?
When I first visited campus, I remember so many current students coming up to me to ask about my interests and tell me how much they loved Augie. I realized I had found a community that would support me not only as a student, but also as a person with many passions.
At Augie, I could double major in two completely different departments and participate in wide-ranging activities, all the while being supported by brilliant, inspiring mentors and friends. The atmosphere was unlike anywhere else.
Are you where you thought you'd be when you first came to campus?
Yes and no? I dreamed of getting into medical school, but the journey was rewarding in unexpected ways. I never thought I would pick up a major in women, gender, and sexuality studies (WGSS), nor that I would tutor incarcerated students through the Augustana Prison Education Program.
I not only learned biology and chemistry, but also learned how to place such topics in conversation with the world around me. I've found that engaging with different perspectives is every bit as important as an MCAT score.
Who helped you get to where you are now?
Dr. Jennifer Heacock-Renaud saw my passions before I could even articulate them, and worked tirelessly to help me integrate WGSS into my pre-med path. As genuine a mentor as she is a friend, she supported me through everything from conference presentations to medical school applications, always with a smile.
In the Reading/Writing Center, professors Lucas Street, Jake Romaniello and Farah Marklevits pushed me to think critically. They taught me that helping others find their voice is the key to building a more inclusive, equitable world. Their passion for the Augustana Prison Education Program was infectious.
Dr. Troy Larson and Professor Brad Kennedy were among my greatest biology mentors. On our Anatomy of Italy trip, they taught me that science cannot function without the arts. They showed me that an interdisciplinary mind is a scientist's greatest asset.
Finally, I would not be here without the support of my beloved friends and family, for whom I am eternally grateful.
Peak experience?
The Texas Medical Center Summer Research Internship Program exposed me to a whole new world of science and medicine. At MD Anderson Cancer Center, I conducted breast cancer research alongside some of the top physician-scientists in the country. I absorbed everything, from wet lab experiments to mouse work to clinical shadowing. My mentor, Dr. Woodward, modeled the kind of physician I hope to be: curious, empathetic and justice-oriented. I felt that I was contributing to something greater than myself.
What surprised you?
I never imagined that I would have so many opportunities to learn and grow outside of classes. I managed to study abroad, conduct research, participate in multiple extracurriculars and internships, and work part-time as an EMT — all while building lasting relationships with peers and faculty. Each has deepened my understanding of the world. I couldn't have asked for more.
How did you use your Augie Choice?
I initially received Augie Choice for an internship with a local cardiovascular surgeon, but it fell through due to COVID. Instead, the funds went to my Texas Medical Center internship, allowing me to fully immerse myself in the exciting atmosphere of the largest medical center in the world!
What will you miss the most?
The people, the people, the people. The Augustana community is uniquely brilliant, friendly and spirited. Students and faculty alike are not afraid to stand up for what they believe in and push each other to be better.
I will miss warm smiles as I walk around campus, lively class discussions and the joy of living in a network of people who are genuinely invested in each other. Each person I've met at Augie has shaped who I am today, and I am so grateful to have learned from and alongside them.
Advice for the Class of 2027?
Take your work seriously, but don't take yourself too seriously. That is, pursue your passions, have fun and remember that fluidity and uncertainty are simply a part of being human. This is a time to learn more about who you are. Relish in your continued growth, in ways great and small!
"In all my years of teaching, I have never encountered a student like Alison who has so fiercely and joyfully embodied the spirit of a liberal arts education. Alison is not only gifted in the sciences but is also a skilled Spanish speaker, a powerful and accomplished writer and presenter, and an unrelenting advocate for equity and inclusivity guided by deep intersectional feminist knowledge. Indeed, I cannot wait to see how Alison revolutionizes the field of medicine (and the world) as a surgeon!"