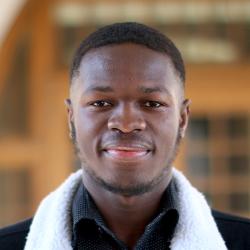 More Than I Imagined
Seniors reflect on accomplishments and look ahead
Abdul Kamara
Graduation year: 2023
High school: Cathedral Catholic High School
Hometown: Monrovia, Liberia
Majors: Environmental studies, public health
Minors: Geography, GIST (Geographic Information Science and Technology)
Activities: Club soccer, African Students Association, Black Student Union
Internships: GIS research assistant at Augusta's Upper Mississippi Center for Sustainable Communities; intern at undependent Rock Island
Post-grad plans: Work in the urban planning and GIS field
Why Augustana?
While Augustana's diverse academic programs initially piqued my interest, ultimately I chose the small liberal arts college for its unique ability to allow me to pursue my passions, form close bonds with professors, and build meaningful relationships with a diverse student body.
Are you where you thought you'd be when you first came to campus?
While I had a general idea of what I wanted to study and what career path I wanted to pursue, the many opportunities and experiences I had at college opened new possibilities and led me down unexpected paths. Despite the unpredictability of the journey, I am overall grateful for the growth, challenges and successes that have brought me to where I am today.
Who helped you get to where you are now?
First, my family has been a constant source of support. My professors have also played a pivotal role in shaping my academic and professional journey, providing guidance, feedback and networking opportunities. Additionally, my friends have offered invaluable emotional support and inspiration along the way.
Ultimately, the collective effort of all these individuals has propelled me to where I am now, and I am truly thankful for their contributions to my journey.
Peak experience?
My peak experience was discovering and falling in love with GIS (Geographic Information Science]. Although it was a required class for one of my majors, I was amazed by the possibilities it presented. GIS allowed me to combine my interests and develop solutions to real-world problems.
The ability to create maps and analyze data in relation to location opened a whole new world for me, and I found myself constantly drawn to exploring the many different applications of GIS.
What surprised you?
I was surprised by the strong relationships that could be forged with faculty members. Having my professors accessible and willing to engage with me on a personal level was one of the best things I could have wished for. They were always available to answer my questions, offer guidance and provide support.
How did you use your Augie Choice?
I used my Augie Choice during my summer internship at the Upper Mississippi Center for Sustainable Communities.
What will you miss the most?
I will miss the amazing friends I have made here over my four years. I will always cherish the memories I have made with them, and it is difficult to imagine not seeing them every day.
They have not only been a source of laughter and support, but they have also challenged me to be a better person and to strive for excellence.
Advice for the Class of 2027?
Take advantage of every opportunity you have. Augie has such amazing opportunities and the resources to help you make them possible. The opportunities I've had in and out of the classroom have been so valuable and definitely a key part of my Augie experience.
"Abdul's curious mind has taken him to many places and through many rich research experiences. Driven by inquisitiveness and determination for problem-solving, Abdul has mastered Geographic Information Science (GIS). He has applied his GIS talents to research issues concerning public health, ecology and the environment. Abdul's research on the endangered Rusty Patch Bumble has fostered connections to scientific experts (USFWS), and his work was accepted at a national conference. We can't wait to see where his determination, intellect and wonderful spirit take him next!"