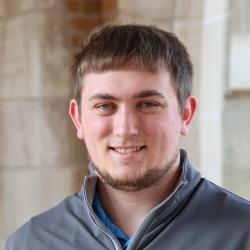 More Than I Imagined
Seniors reflect on accomplishments and look ahead
Damon Hulick
Graduation year: 2022
High school: Annawan High School
Hometown: Annawan, Ill.
Majors: Business administration-management; data analytics
Minor: Accounting
Activities: Esports Club, Concert Band
Internship: John Deere Part-Time Student Program
Post-grad plans: I accepted a full-time position with John Deere Horicon Works as a supply management specialist on Jan. 3, 2022. I will move to Horicon, Wis., following graduation!
Why Augustana?
Augustana's history of academic success and the high percentage of job placement following graduation were two of the main reasons I came to Augustana.
I had a teacher in high school who went to Augustana, and she would always talk about the great atmosphere and excellent professors. After visiting, I quickly realized what she said was true, and I applied not long after.
Are you where you thought you'd be when you first came to campus?
I ended up going down a completely different path. I came to Augustana expecting to be a computer science major. About two trimesters in, I got a job at John Deere in supply management and decided that was much more what I wanted rather than computer science. I changed majors, and now I am working full-time for John Deere and will be moving to support their factory in Horicon post-graduation!
Who helped you get to where you are now?
There are many people I would like to thank, who helped me get to where I am now. First, my advisors and professors Mamata Marmé and Dr. Marty Coe. Professor Marmé always supported me, was available to talk, and pushed me out of my comfort zone when I was too afraid to do it myself!
Dr. Coe helped me integrate the data analytics program into my already tight schedule, helped show me ways I could use my learning in the real world, and helped prepare me for my data Senior Inquiry.
Second, I would like to thank my saxophone instructor, Dr. John Cummins. For all my four years, I worked with Dr. Cummins once a week every week on my saxophone technique. We would discuss current events and stressors from school/life, and I gained invaluable insight and advice how to handle adversity that I continue to utilize today!
Third, my parents. They were a big reason I was able to go off to college and navigate the years of becoming an adult. Without their support, I would not be where I am today.
Finally, I would like to thank all of the professors and staff at Augustana. Without each of your contributions, Augustana would not be the place I call home.
Peak experience?
My peak experience was the summer before my senior year. It was my last summer with the John Deere Part-Time Student Program at Harvester Works. They allowed me to work full-time over the summer and gave me my own suppliers to work with. I managed many different facets of the supply management world and got to travel throughout the Midwest, visiting the suppliers I was working closely with. I also spent a lot of time down on the line ensuring my parts arrived on time and were in place to be put on the machine
What surprised you?
How professors were able to tie concepts we were learning in class to real-life scenarios. That really gives Augustana students a leg up when looking for jobs after graduation.
How did you use your Augie Choice?
I used my Augie Choice to help pay for my living expenses the summer I stayed in the Quad Cities and worked for John Deere Harvester Works.
What will you miss the most?
The friends I've made at Augustana. While I've made friendships that will last a lifetime, we will not be in an area so close to one another anymore.
I will also miss my advisors and professors that I would frequently check in with and talk to. Augustana feels like a close-knit community, and I will miss being a part of it.
Advice for the Class of 2026?
Don't be afraid to change your mind! Once you get to college, you will quickly realize the classes and majors that interest you and the ones that do not. Do not continue with a major because it was what you originally wanted. Try something new, and go after that major that interests you!
"What sets Damon apart is the way he finds opportunities and takes advantage of them. He found a connection to John Deere as a first-year through Handshake. He recognized the value that data analytics would have for his professional ambitions, and he pursued it when Augustana started offering it as a major. He follows his curiosity, seeks advice from his professors and mentors, and works hard to learn and grow. In short, Damon has truly made the most of his time at Augustana — it has been inspiring to witness!"