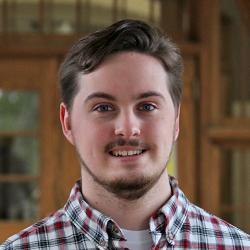 More Than I Imagined
Seniors reflect on accomplishments and look ahead
Nicholas Muskopf-Stone
Graduation year: 2022 (3-2 engineering program with University of Illinois)
High school: Assumption High School
Hometown: Rock Island, Ill.
Major: Engineering physics
Minors: Mathematics, computer science
Activities: Augustana Web Guild; Augustana Physics and Engineering Society (APES); Fencing Club; astronomy, computer science and physics tutor
Internship: Augustana's Entrepreneurial Center (EDGE)
Post-grad plans: I will be pursuing a degree in computer engineering at the Grainger College of Engineering/University of Illinois at Urbana-Champaign.
Why Augustana?
I grew up in Rock Island, and I knew that Augustana had a good reputation. After high school, I knew I wanted to become an engineer; upon investigation, I found that Augustana offered a 3-2 program in engineering.
Are you where you thought you'd be when you first came to campus?
Yes, but not in the way that I had imagined. I had pretty high aspirations when I came to Augustana. My goal was to complete my three years at Augustana and go to the University of Illinois at Urbana-Champaign for the final two years, and I have been able to achieve that goal. While I expected to graduate with a degree in engineering physics, I did not expect to graduate with two minors and many months of professional experience.
Who helped you get to where you are now?
First and foremost, none of this would have been possible without the support of my mother. Even before attending Augustana as a student, I had attended Augustana Summer Academy sessions with both Dr. Dyer and Dr. Stonedahl. During my time at Augustana, I made connections with faculty from the physics, mathematics, and computer science departments, including Dr. Frank, Dr. Clauss and Dr. Mueller.
I was introduced to the Entrepreneurial Center (EDGE) and the Augustana Web Guild through Dr. Stonedahl. I worked for the EDGE Center for two years under the guidance of Mr. Tschopp and Mr. Shearouse, creating, developing and maintaining websites for over 200 local businesses and not-for-profit organizations. I gained lots of valuable experience from my time at the EDGE Center, which will be of great benefit in the future.
Finally, I would like to give a shoutout to my advisor, Dr. Dyer. He was instrumental in helping me believe in myself and accomplish my goals.
Peak experience?
My peak experience involved a project I had completed for an upper-level physics laboratory class. The project involved using Python code to remove noise from images using a series of filters constructed by using mathematical functions such as the Fourier transform.
The resulting program took what I had previously learned in my math and physics classes and implemented them in a real-world application. The feeling of accomplishment I had from that project was remarkable.
What surprised you?
What surprised me was being able to accomplish so much in so little time. I knew I would have to complete all my requirements for the engineering physics degree in three years' time, but I did not expect to accomplish so much else in addition to that.
How did you use your Augie Choice?
My Augie Choice was supposed to go toward a study abroad experience in Germany and Switzerland (Innovation in the Alps), but due to COVID-19, the experience was canceled. I used my Augie Choice to fund an internship with the EDGE Center during the spring term of my junior year.
What will you miss the most?
I will miss the welcoming atmosphere and the small class sizes I have become accustomed to at Augustana. I was able to connect with my professors in a meaningful way because of these factors, which have been the gateway to so many wonderful opportunities.
Advice for the Class of 2025?
If you have an idea of what you want to be or what you want to do, pursue it with all you've got. Most likely, you will incur challenges that may test your resolve ... but that's life. If you work hard and stay focused, you can do anything you put your mind to.
"Many students say they want a challenge, but not all of them actually rise to the occasion. Nick is that rare person who really does want to be challenged to learn new skills — and then pushes himself to continually improve them. He came into EDGE with zero experience, and has stretched himself to learn website development, project managing, and client communication skills that he uses every day in the EDGE Center … and he is good at them. This force in EDGE will be greatly missed!"